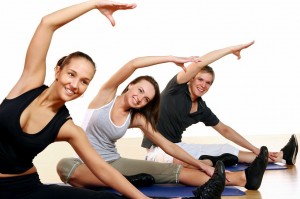 Hey there,
If you are unable to make my morning Boot Camps at San Mateo Gymnastics in Belmont or my Small Group Training Mini Camps on Mondays & Wednesdays @ 5 pm, I have another option for you.
I am now the Program Director for Menlo Fit at the new Arrillaga Family Gymnasium in Menlo Park. We have Boot Camps for adults and pre-schoolers every morning (Monday-Friday)  from 6 am – noon. In addition, every Saturday, I am teaching a  FREE Community Boot Camp at 7:30 am  which will combine boot campers from SF bay Area Fit Body Boot Camp and Menlo Fit and anyone else that wants to attend.
21-Day Boot Camp for the Holidays at Menlo Fit!
Get ready for the holidays with our special 21-day offer! We're launching our new boot camps with a fat-burning, inch-loss special. Only $97 for unlimited classes for 21 consecutive days. Choose from 24 classes per week where you'll experience our amazing Boot Camp workouts and get that shape you've always wanted for the holidays! Mom's Gym is included with the program so you can workout with your kids up to three times per week.  Offer ends Nov 30. More about the classes
Here is the Core Class Workout of the Day for 11/11/2010 at Menlo Fit:
Location:
Arrillaga Family Gymnasium in Menlo Park
600 Alma Street
Menlo Park, CA 94022
For more information on Menlo Fit, feel free to contact me or go to www.MenloFit.com
In Health & Fitness,
Brien Shamp BS CSCS CMT CHEK NLC II
Personal Trainer, Nutrition and Lifestyle Coach
www.BrienShamp.com
www.SFBayAreaBootCamp.com
www.MenloFit.com
650-654-4604
Become a Fan of Brien Shamp's Personal Training, Nutrition & Lifestyle Coaching on Facebook and SF Bay Area Fit Body Boot Camp on Facebook
Please write me a review on YELP for Brien Shamp's Personal Training, Nutrition & Lifestyle Coaching or SF Bay Area Fit Body Boot Camp