This recipe is another great way to enjoy protein-filled quinoa. Winter squash combined with celery, onion and parsley makes a healthy and comforting side dish.
Servings: 10
INGREDIENTS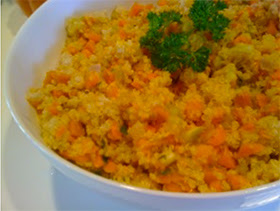 2 yellow onions, diced
4 celery stalks, diced
4 carrots, diced
2 cups diced squash, butternut or any other fall or winter squash
1 Tablespoon olive oil
1 Tablespoon brown rice syrup
dash of freshly ground sea salt
zest and juice from 1 lemon
2 cups filtered water
1 cup quinoa
4 sprigs of parsley, finely minced
DIRECTIONS
Preheat oven to 400 degrees F.
Place the onions, celery, carrots and squash in a large bowl. Mix in the oil and syrup, then sprinkle the salt and lemon zest.
Mix until well combined and then place on a shallow baking dish. Cover the dish and bake for 40 minutes.
After 40 minutes, remove cover and cook for another 15 minutes.
While the vegetables are in the oven, put the quinoa and water in a saucepan, cover and bring to a boil over medium heat.
Cook for about 25 minutes over low heat, until the water is absorbed.
Combine the vegetables and cooked quinoa together with the lemon juice and parsley. Serve warm or chilled.
Enjoy!! 🙂
Nutritional Analysis: One serving equals: 95 calories, 1g fat, 19g carbohydrate, 2.5g fiber, and 4g protein.
Check out more fabulous recipes on https://brienshamp.com/recipes
Your friend & coach,
Brien
Try out the Fit Body Boot Camp Afterburn Workout for 21 days. You'll see why we're rated the best in the Bay Area! 21 Day Rapid Fat Loss Program Boot Camp Trial
Fit Body Boot Camp is the only 30 minute group personal training program that's fun, affordable, gives you fat loss results and challenges your body every time. Best of all, we guarantee you'll be happy with the results or you get your money back.
The boot camp sessions are approximately 45-50 minutes long. Each session includes a 10-15 minute warm up phase with mobility and core movements to prepare you for the 30 minute metabolic workout, and then it ends with a 5 minute cool down phase.
Telephone: 650-654-4604
About Brien
Join Brien on Facebook
Write a Google+ Review
Write a Yelp Review: Belmont Boot Camp, Burlingame Boot Camp, San Carlos Boot Camp, Shamp's Studio Boot Camp
Disclaimer