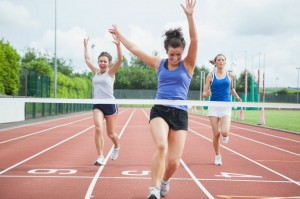 SF Bay Area Fit Body Boot CampTitle: Core-Cardio Workout 1/18/2011: Lower Abs, Bridges, Crunch, Plank, Cardio Circuit
Obstacle Course: 5-10 min
Perform the following exercises as a group for 1 min in a circuit for 3 rounds:
1. Lower Ab Knee Raise * Perform curl to modify
2. Hand Bridges-> Leg Ext
3. Combo Crunch with Two Legs
4. Side Plank w/ Leg Raise (30s each side)
5. Knees to Elbow Plank
6. Butt Pinchers
If you can not see the video above go to: SF Bay Area Fit Body Boot Camp BLOG
Please add your comments below on the workout.
Sign-Up to start your One Week for $1 Trial Today! Only $1 For One Week
In Health, Fitness & Vitality,
Brien Shamp BS CSCS CMT CHEK NLC II
Personal Trainer, Nutrition and Lifestyle Coach
www.BrienShamp.com
www.SFBayAreaBootCamp.com
650-654-4604
Become a Fan of Brien Shamp's Personal Training, Nutrition & Lifestyle Coaching on Facebook and SF Bay Area Fit Body Boot Camp on Facebook
Please write me a review on YELP for Brien Shamp's Personal Training, Nutrition & Lifestyle Coaching or SF Bay Area Fit Body Boot Camp