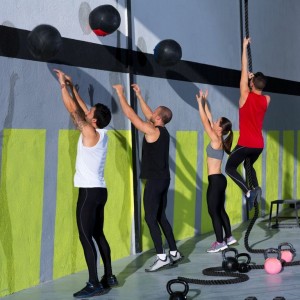 SF Bay Area Fit Body Boot CampTitle: Challenge Day: Total Body Strength & Core 1/28: Lower Abs, One Leg Squat, Leg Curls, Triceps, Push-Ups, Russian Twist
Core Warm-Up- Perform 2 Sets of the following:
1. Side Lying Hip AD (bottom leg goes up) & AB (top leg goes up): 25 Each *3B's
2. Plank-Side Plank Combo: 90 & 120s *Elbow under shoulder *3B's *Perform on knees as needed *Butt down
WOD: Perform the following exercises as fast as possible with good form for 3-4 sets. Do the exercises in any order.
1. Lower Ab Curl: 20 *Hands behind head *Lift Pelvis *Control Down *Heel Taps Ground *3B's *Tongue on Roof of Mouth
2. Swiss Ball One Leg Squat: 10 each side
3. Band Reverse Fly Kneeling on Disc: 15 *Shoulders down & back *Squeeze
4. Swiss Ball Leg Curls: 15
5. MB Triceps Throw-Wall: 15 *Goal is speed *Relax Shoulders *3B's *Elbows in
6. Plate One Arm Row: 10 each side
7. Push-Up with Hands on Ball (Feet on Beam if Possible): 15 *Hands should be near side of the ball-easier on wrists *Go to knees as needed *Wider feet makes the exercise easier *If needed put feel on ball *Shoulders down & back
8. Band Reverse Wood Chops with Pivot: 10 Each Side *Hips Back
If you can not see the video above go to: SF Bay Area Fit Body Boot Camp BLOG
Please add your comments below on the workout.
Sign-Up to start your One Week for $1 Trial Today! Only $1 For One Week
In Health, Fitness & Vitality,
Brien Shamp BS CSCS CMT CHEK NLC II
Personal Trainer, Nutrition and Lifestyle Coach
www.BrienShamp.com
www.SFBayAreaBootCamp.com
www.MenloFit.com
650-654-4604
Become a Fan of Brien Shamp's Personal Training, Nutrition & Lifestyle Coaching on Facebook and SF Bay Area Fit Body Boot Camp on Facebook
Please write me a review on YELP for Brien Shamp's Personal Training, Nutrition & Lifestyle Coaching or SF Bay Area Fit Body Boot Camp