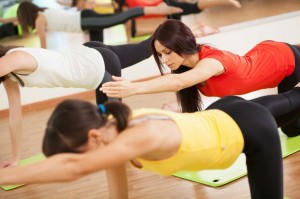 2/22/11 Core-Cardio Workout:

Cardio: Obstacle Course (5 min)
Work: Perform the following exercises in a circuit for 1 min each for 3 sets.
Make sure core is engaged and posture is good.1. MB Kneeling Side Bend  *Keep core tight *MB on Head or Above Head To Make Harder
2. Battle Ropes: Snake (30s) *Partner stabilizes
3. Swiss Ball Russian Twists *Keep hips up & level
4.  Prisoner Supine Reverse Crunch with MB Btw Knees  (Lift pelvis off ground)
5. Prone Prisoner Superman Hold *Lift chest & legs
6. Swiss Ball  Chops *Stay Tight *Chop Right and Left *Keep Low Back In Contact with Ball
7. Mirror Balance Drill (30s as the leader each) * Perform whatever movement you want on 1 leg and partner follows
*Walk/Jog: 3 min after each round
If you can't see the video above go to: Boot Camp BLOG
Please add your comments below on the workout.
NEW Burlingame Fit Boot Camp Grand Opening March 2nd: 21 Day Rapid Fat Loss Grand Opening Promotion
In Health, Fitness & Vitality,
Brien Shamp BS CSCS CMT CHEK NLC II
Personal Trainer, Nutrition and Lifestyle Coach
www.BrienShamp.com
www.SFBayAreaBootCamp.com
www.MenloFit.com
650-654-4604
Become a Fan of Brien Shamp's Personal Training, Nutrition & Lifestyle Coaching on Facebook and SF Bay Area Fit Body Boot Camp on Facebook
Please write me a review on YELP for Brien Shamp's Personal Training, Nutrition & Lifestyle Coaching or SF Bay Area Fit Body Boot Camp