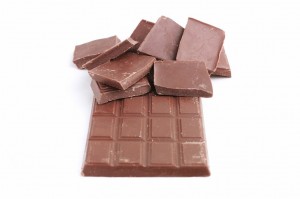 Source: Chef Marcie Dompier's Vegetarian Gluten-Free Cooking Class (Cooking without the Carbs)
January 20th, 2011 Whole Foods-San Mateo
Ingredients:
6 eggs
12-14 pitted medjool dates
1 Tablespoon vanilla extract
½ teaspoon sea salt
6 Tablespoons raw butter
½ cup Agave Nectar
1 cup Lake Champlain Cocoa Powder
In heavy duty blender, add eggs, pitted dates, vanilla extract and salt. Combine on high until mixture is a consistent thick liquid (similar to milkshake consistency). Then place egg mixture into mixing bowl.
In double boiler, melt butter.Once butter is completely melted, add the agave nectar and whisk. Then add in cocoa powder and quickly mix together (about 15 seconds). Once combined, remove from heat.
Add ½ of the cocoa mixture to the egg mixture and whisk in well. Once combined, add the remaining cocoa mixture to the batter.
Ladle batter into ramekins (about 1/2 way full). Bake at 350 degrees for approximately 8 minutes or until the rim of the outside starts to rise. The direct center should still be like chocolate lava. Serve hot.
Help out your friends, family and co-works by giving them a complimentary issue of my bimonthly fitness newsletter. Just use the "refer a friend" link below to forward this issue.
Brien Shamp BS CSCS CMT CHEK NLC II
Personal Trainer, Nutrition and Lifestyle Coach
www.BrienShamp.com
www.SFBayAreaBootCamp.com
www.MenloFit.com
650-654-4604
Become a Fan of Brien Shamp's Personal Training, Nutrition & Lifestyle Coaching on Facebook and SF Bay Area Fit Body Boot Camp on Facebook
Please write me a review on YELP for Brien Shamp's Personal Training, Nutrition & Lifestyle Coaching or SF Bay Area Fit Body Boot Camp