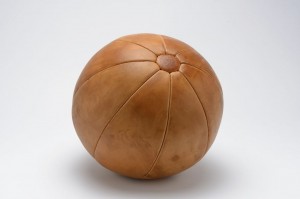 Fall CSM Baseball Workout #2
Group Core: Perform the following circuit for 1 min for 2 rounds:
1. 4 Pt Tuck (5-10s Hold) *Stay Tight *2B's
2. Lower Abdominal Curl *3 B's *Hands on Sides of Torso- Use them to help curls up as needed
3. Bridge with Leg Crossover (Hold 2s) *Start with feet together and toes up. *Keep Hips Level *Toes Up*Cross Ankle Over Opp. Knee and Attempt to Open To Stretch for 2sà Switch
4. Cobra (6s Hold) *Squeeze Shoulder Blades
5. Supine Chops *Chop Right to Left
Circuit: Perform 3 Rounds for 40s each (8 stations, 6 people at each)
1. One Leg Bench Squat (20s each side) *Down slow *Explode Up *Start with feet together
2. Plate Floor Press *Lock
3. Side Lunge with Touch *Keep back flat when attempting to touch ground *Goal is speed if they can do with good form
4. Power Jacks *Get Low Jumping Jack *Explode Up *Chest Up – Flat Back
5.  Battle Ropes- Overhand Grip Double Wave (20s)  *Lock
Set up these stations in other room
6. Pulley Pull & Rotate (20s each side) *Keep feet shoulder width  *Lock
7. MB Side to Side Rotations *Throw Against wall *Keep feet shoulder width  *Lock *Keep arms extended
8. Cone Drill: 10 Yard Get-Up and Go *Stay Low
Please add your comments below on the workout.
In Fitness and Health,
Brien Shamp BS CSCS CMT CHEK NLC II
Personal Trainer, Nutrition and Lifestyle Coach
www.BrienShamp.com
www.BaseballPerformanceEdge.com
www.SFBayAreaBootCamp.com
650-654-4604
Become a Fan of Brien Shamp's Personal Training, Nutrition & Lifestyle Coaching on Facebook and SF Bay Area Fit Body Boot Camp on Facebook
Please write me a review on YELP for Brien Shamp's Personal Training, Nutrition & Lifestyle Coaching or SF Bay Area Fit Body Boot Camp