Close your eyes and imagine how you would look and feel if you lost 12 pounds and 4% body fat in the next 5 1/2 weeks.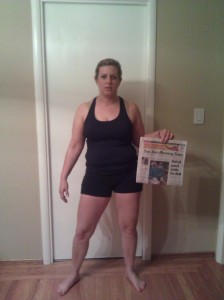 Continue with your visualization and see yourself with a health & fitness lifestyle plan of action including working out daily, eating every 3-4 hours, preparing your meals, listening to what your body needs (versus being distracted with life's obstacles), and getting our well-needed sleep.
Your visualization is Heather's reality and she is the winner of my 5 1/2 Week Holiday Transformation Challenge. She won an Ipad 2, but more importantly she changed her lifestyle and the fat & weight fell off.
Just like Mike, who lost a considerable amount of weight in preparation for a National Competition (Fat Loss Tip #24-Think Outside The Box), Heather combined a number of different principles to achieve her awesome transformation. The reason why I mention this is because many people  I talk to try one thing and expect much more. I hear this quite often, "Brien, I have done everything." Trust me, no one has done everything.
The solution to most heath & fitness related goals is not just working out and it is not just cutting out grains. For some only cutting out the grains works very well, but most of the time we need a more comprehensive plan.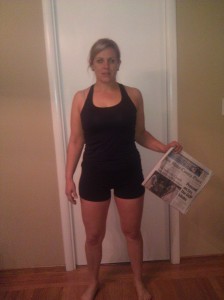 Keep this in mind as you get ready to lose your dreaded  fat in 2012…it took a while to pack it on. Have some patience to get it off. The more you stress over not losing weight and fat, the more likely you will not lose it given stress is the number one reason for weight and fat gain (We can measure how much stress you have- Stress Hormones) .
I am very proud of Heather and all the those that did the challenge. I will give you details on the other winners soon.
Check out Heather's essay below describing her plan of action and what she achieved:
"In October I received photos of myself completing a sprint tri, I was shocked and disgusted.  Being over 20 pounds my ideal weight I really had no idea that I looked that terrible.  Looking back to what changed and when I started gaining weight I would have to say it was in mid 2010 when I started to struggle with finding a work, family, me balance and to find balance I gave up the "me" part of the equation and focused fully on my work and daughter.  I stopped running during the week, I stopped working out and I stopped really caring about my overall appearance.

I bought a groupon for Brien Shamp's boot camps, they were fun but I just did not commit to it until he sent out an email about a 5 ½ week Holiday Body Transformation Challenge.  I signed up and weighted in the first week at 167 pounds I had my 12 year old daughter take my before photos, she laughed and I secretly cried because they were horrible, I almost did not send them to Brien.

The first week was easy, no big deal.  I showed up worked out 4 days a week sort of ate well and really had little results.  I read one of Brien's emails about growth, change and routines.  I realized I was in a nasty cycle of 4 days of working out at boo camp, eating ok and then the other days just doing the same old same old.  I not only was in an awful cycle but I had NO plan.

I put a plan together for myself, what I would eat, what days I would go to boot camp, on my off days from boot camp I would do cardio at home and also came up with a few goals for myself.   It worked.  I stuck to my plan, it felt good.  I posted my plan on my bathroom mirror and looked at in the morning and before bed.  At the end of the 2nd week I was down 3 pounds.  I felt good, I accomplished something I planned. I started feeling more present in my life.  I showed up to live my life. I made myself more aware of everything I put in my mouth, every exercise I did, how much sleep I was getting.

I became more aware of what my body needed from me.  I still continued to struggle though with food at times.  I may have been writing down what I wanted to eat but if I was running late or forgot something at the store the whole plan fall by the waste side.  I started preparing snacks, meals and had a few go to places for when I did not prepare a home cooked meal.  I love whole foods, I buy a precooked free range plain chicken and use that for lunches, or dinners.  I get lunch at chipotle, if I did not have time to make something, burrito bowl, no rice, meat, a little beans, veggies, salsa and avocados.  I cut out dairy at the suggestion of Brien and noticed my energy increased and allergies got better.

I continued on showing up; for life, my workouts, eating right, my family and myself.  See Brien's daily emails were a constant reminder of my goals and that I had a partner in this challenge that I could turn to with questions or moral support. The biggest thing I learned from the last 5.5 weeks is you have to have a plan, goals and I need a road map to figure out what I need to do to execute that plan to achieve my goals.  I also needed to have alternatives in case things that were not in my control happened that could derail my plan. I had to leave for a trip and could not attend a week of boot camp, I was devastated, and that was not part of the plan.  I almost felt that without showing up to Brien's boot camp I could not do it and would stall my weight loss….i thought I was screwed.  I pulled myself together, emailed Brien and figured out that I can work out ANYWHERE.  Brien was kind enough to send me daily emails with workouts that the camp was doing and I was able to follow along on my own and I was just fine.

Again it was all about planning and executing.  A few days ago my daughter suggested I buy a new pair of jeans because the ones I was wearing did not fit…..they were too big.  I have lost 12 pounds, 4% body fat, 2 pant sizes, and lost a tremendous amount of overall inches from my arms and stomach.   It's awesome to see my "muffin top" disappear.  I am not looking at this as the end of the challenge but really just the start, I still have more to accomplish and am thankful for Brien's boot camps and daily emails."
Congratulations to you again Heather and all of you that entered the challenge. You challenged yourself during the Holiday Season – a time full of obstacles.
The research states that most people gain weight during the holiday season and the weight gain accumulates each year. Heather and many of my other Challengers proved that this does not need to happen. It also doesn't have to be that way for you in 2012.
Shock your body and do something different in 2012. Sign up for my 16 Day Sexy Slim Program starting Tuesday and I will give you the structure you need to start your 2012 off right. Sign up here: 16 Day Sexy Slim Program
Scholarships are available for those in need: Scholarships
Your friend & coach,
Brien
P.S. Check out all the Fat Loss Tips here: Tips
P.S.S. Please share my educational content with your friends and family and help me reach my goal of 10,000 subscribers.
**************************************************************************
Join me on Facebook (click here) for answers to all your health, fitness, and nutrition questions.
Please Write Me a Review on Yelp: Belmont Boot Camp, Burlingame Boot Camp, South City Boot Camp, Personal Training & Nutrition
**************************************************************************
I work with those who desire weight & fat loss, pain reduction and stress management through comprehensive exercise, nutrition & lifestyle strategies. My dream  is to coach those who seek my help live their passions with happiness & love.
Thank you for allowing me to help you.
**************************************************************************
Check our life-changing fitness and nutrition programs to help you live your healthiest, fittest, and most energetic life ever!
Brien Shamp BS CSCS CMT CHEK NLC II
Personal Trainer, Nutrition and Lifestyle Coach
www.BrienShamp.com
www.Shamp'sBootCamps.com
www.10 DayDetox.com
www.21DayDetox.com
650-654-4604