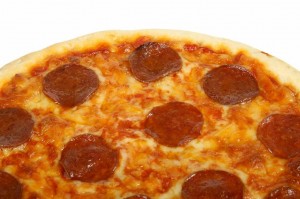 Happy Post Valentine's Day!
I hope you had a great day yesterday and spread the love!
Speaking of love, did I ever tell you I love pizza? It is my favorite food and I rarely eat it, but I admit that I did "consume" on Saturday night. I wasn't going to share this story with you, but I want you to know that I do "cheat" every once in a while. I really don't like to call it cheating because I don't feel the need to cheat. I call it an experiment.
Experiment:
My wife, Chris (pictured on the right) and I had a date night on Saturday in North Beach. I figured there was no better place to test my body than North Beach-some of the best Italian food around. I shared some pasta and a slice of pizza later in the night just like I did in my college days and early 20's. Yes, that pizza was REAL GOOD! I cherished every bite because I knew it would be a while before I had another piece. I have only eaten grains about 5 times in the last 7 months and most of those grains were gluten free.
All was really great until I woke up Sunday morning. I immediately felt my distended belly and had non-stop gas. I had 30 minutes to join my Sunday running group and I wasn't sure if I was going to make it. After spending about 30 minutes in the restroom, I decided to join my group. Although, I felt better, I continued to cramp during the 6.5 mile run and it was a truly an uncomfortable experience.
Conclusion: Experiment was a success! I truly have issues..with white flour 🙂 I doubt it was the cheese because I have consumed pasteurized cheese recently and there were no issues. I eat organic raw cheese regularly. Note to self: Never experiment before a running day 🙂
For those of you complaining of digestive problems, weight gain, belly fat, joint pain, thyroid dysfunction, immune suppression and inflammation, have you considered the grains you are consuming?  The latest research suggests that even gluten free grains may be a problem (quinoa, oats, rice, etc.).
Try some pasta after eliminating grains for 21 days and see how your body responds. This experiment is much less expensive than a food allergy test, but plan your following day with caution 🙂
Check out my new on-line health & fitness magazine here: http://brienshamp.fitpromag.com/
In this newsletter, you will see an article called "The Importance of Your Kid's Breakfast" and a Breakfast Protein Parfait recipe below. Check it out and let me know what you think.
Check out my website for the latest articles: www.BrienShamp.com
Have a great rest of the week!
Brien