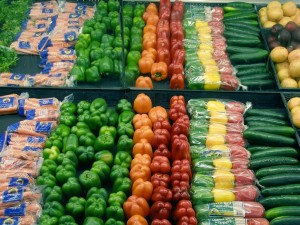 Happy Sunday!
Yesterday we had a great total body workout in Menlo Park. There were 37 in attendance for the FREE Saturday Boot Camp @ 7:30 am. I just remembered there were 2 more in attendance – Maya (4 1/2) and Miles Shamp (2). They were officially too young to participate in the program, so they helped me keep everyone motivated.
I brought the kids to class because my wife, Chris went on a bonding weekend with her sister and I have the kids to myself. We had a terrific time at the SF Zoo yesterday and then we all cooked dinner. Here are some videos (sorry they are sideways):
Maya & Miles Making Steaming Broccoli & Cauliflower
Cauliflower Mock Mash Potatoes with Chef's Maya & Miles
While we were in class yestrday, Rebekka asked me about my kids' nutrition and then asked how I get them to eat healthy. Not only is this a common question, but I often find that the family one has is often considered an obstacle to "healthy eating" when I am working with a client to improve eating habits. It is frequently said, "I am not sure how I can stick to your program or this way of eating given my kids or husband will never eat that stuff." It is very difficult to choose a healthy eating model and "get healthy" if you are on a team that lacks support.
Here are a few ways I get my kids to eat healthy:
I am super passionate about what I am eating and finding the best model to optimize efficiency, performance and health. I only want the best for my family and you also. The way I see it my kids don't really have a choice given we are buying and preparing the food 🙂 I know this will get harder later as the kids grow up.
I am not attached to foods and I am willing to experiment with my food intake and my kids. I find that many are attached to what they learned in college, heard from their trainer, doctor, nutritionist or read in a magazine. Many are still suck in the 80's and eat egg whites and fat -free foods.
Food is a huge priority for us so we plan and prepare the meals for the week. In a given week it is common for us to go to Whole Foods, Costco, Sigonas, Trader Joes and a Farmers Market. It is a rare day when we have nothing to eat at the house.
Avoid the processed crap. If it has a label it is most likely not good for you or the kids; however, it is a great food for preparation of a natural disaster given it could well last for years. We rarely have unhealthy food in our home. If those girl scouts come by your home and you want to lose body fat those "Thin Mints" are not a diet cookie. Either avoid the Girl Scouts at all costs or give them some money and tell them to keep their cookies. I know they taste really good.
If we do have a cheat meal, we will throw out the unhealthy left overs. I can't remember when the last time we ordered a pizza, but if there is left overs, toss it. For Easter, we let the kids eat their candy and then we called the Easter Bunny to return what was left. He told us to throw out everything but the dark chocolate given its superfood qualities.
We choose to be in control of our food quality and preparation and limit eating out. I am often left disappointed by most restaurants given their food is low quality and expensive for what it is. If we do go out, it will be restaurants like: Urban Bistro in Burlingame, Sirayvah Organic Thai in San Carlos, and Que SeRaw SeRaw in Burlingame. The only fast food I will eat is Chipotle.
Eat breakfast within one hour of waking. "We all need to break the fast" to optimize our metabolisms. A smoothie, eggs, piece of fruit, etc will do the trick.
We do our best to keep food intake at consistent intervals every 2-3 hours. This will maintain consistent blood sugar and hormonal balance for the kids. They will be less moody and hyperactive. It is amazing to witness how my kids change their behavior with certain foods.
We always carry snacks and water with us and give the kids food to ensure consistent food intake. Common snacks include: sliced apples and pears with lemon & cinnamon on them, Raw Revolution, Bumble and Lara Bars, Baked Apple Chips and Gluten Free Cereals.
Whatever you ate for dinner, pack for the kids lunch the next day. This is time efficient, cost effective, and ensures the food is in your control (unless the choose otherwise).
Avoid sugary drinks and fruit juice. We only do a little diluted juice on special occasions. Sugar depresses the immune system, decreases concentration and more.
We all eat the same food. I know it is common for the parents to eat different foods than the kids, but I have never figured out how this happens. Seems like a lot of work besides being problematic on so many levels. Even when our kids were infants they ate the same food as us. Our kids never ate baby food and pureed foods. There is a theory that pureed foods are not the best model for food introduction for infants.
Limit treats or desserts after meals. There are other reward systems besides unhealthy, sugary foods.
Find likeminded friends and families to network or socialize with. It is much easier to be on a healthy eating plan when you hang with others on the same wavelength. Don't be afraid to take charge and pick the restaurant or type of food for a dinner.
We do our best to eat with the kids – generally one of us is home.
Our Pediatrician, Dr. Song told us once that our job as parents is not to be a short order cook. If our kids do not like the meal, we are not going to give in and make something else. When they get hungry they will generally eat what you made. Don't give in.
Healthy eating for kids starts with the introduction of foods other than breast milk. If a baby formula is used it is very important that it is of highest quality, but for the most part there are no great ones. Choose organic and be willing to pick your battles. Nothing compares to mom's breast milk, but a good alternative is making the formula yourself. Here is the formula: Homemade Formula
I by no means think I am the perfect parent or we have the perfect kids. The above strategies work for me and our kids. I will continue to experiment and do what is best for my family and I. This information above should not take the place of your prsonal health care practitioner.
Your friend & coach,
Brien
P.S. Please share my educational content with your friends and family and help me reach my goal of 10,000 subscribers.
**************************************************************************
Join me on Facebook (click here) for answers to all your health, fitness, and nutrition questions.
Please Write Me a Review on Yelp: Belmont Boot Camp, Burlingame Boot Camp, Personal Training & Nutrition
**************************************************************************
I work with those who desire weight & fat loss, pain reduction and stress management through comprehensive exercise, nutrition & lifestyle strategies. My dream is to coach those who seek my help live their passions with happiness & love.
Thank you for allowing me to help you.
**************************************************************************
Check our life-changing fitness and nutrition programs to help you live your healthiest, fittest, and most energetic life ever!
Brien Shamp BS CSCS CMT CHEK NLC II
Personal Trainer, Nutrition and Lifestyle Coach
www.BrienShamp.com
www.Shamp'sBootCamps.com
www.10 DayDetox.com
www.21DayDetox.com
650-654-4604