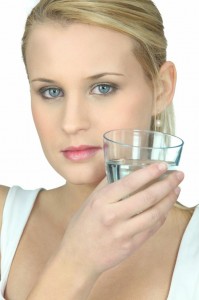 Hey there,
I hope you had a great weekend.
Your mama is probably the one person who can just look at you and know how you're feeling, right?
Moms are something special. I love my mama! See my Mom in the photo on the right on her second special day 🙂
And with Mother's Day coming up on Sunday, May 13th I thought up a really cool program to honor moms.
So if you're a mom and want to do try something fun and healthy for yourself, or if you just want to do something special for your mom then you'll want to keep reading this short email.
On Monday, May 14th (the day after Mother's day) I'm launching the "Hot Mommy Makeover" fitness program. It's a 5 day program designed to give you or your mom five fun and amazing workouts that are designed to burn fat and build muscle tone.
The program includes five workouts and my 5 day detox program to take the guess work out of grocery shopping and preparing fat burning meals (no supplements needed). This 5 day detox program has proven to reduce 5 pounds in 5 days (yeah, the 5 pounds stay off, but that ultimately depends on you). The program also includes a boatload of motivation and accountability.
The "Hot Mommy Makeover" fitness program starts next Monday, May 14th at the following locations:
Community Street Jam in Redwood City-Redwood City Boot Camp-Redwood City Boot Camp
849 Veterans Blvd
6:00-7:00 am: Monday, Wednesday & Friday
San Mateo Gymnastics in Belmont-Belmont Boot Camp
1306 Elmer Street
7:10-8:00 am: Monday, Tuesday, Wednesday & Friday (6:00-6:50 am – SOLD OUT)
Twin Pines Park @ The Meadow in Belmont -Belmont Boot Camp *Starting May 14th
30 Twin Pines Lane
9:30-10:20 am: Monday, Wednesday & Friday. *Baby Sitting Opportunity for $5
Accel Gymnastics in Burlingame-Burlingame Boot Camp
888 Hinckley Road
6:00-7:00 am & 7:10-8:10 am: Monday, Wednesday & Friday
Arrillaga Family Gymnasium in Menlo Park-Menlo Fit Boot Camp
600 Alma Street
6:00-6:50 am, 7:00-7:50 am, 8:00 – 8:50 am and 9:00-9:50 am: Monday, Tuesday, Wednesday, Thursday & Friday.
Monday, Wednesday and Friday will be total body workouts designed to maximize calorie expenditure both during and after the workout.
Special Workouts for the Week:
Burlingame Location: 6:00 am & 7:10 am on Tuesday & Thursday- Crystal Springs or the Bay Trail near Elephant Bar (more info after sign up)
Redwood City Location: 6:00 am on Tuesday-Meet at San Mateo Gymnastics in Belmont & 6:00 on Thursday- Waterdog Lake *Belmont Boot Camp welcome
Belmont Location: 9:30 am on Tuesday and 7:10 am & 9:30 am on Thursday- Waterdog Lake
Menlo Park Location: All classes on-site
*All current members can join in next week at the additional classes at no extra cost. I will even give you the 5 Day Detox For FREE (Please do not email or call me to sign up for this program- I will not accept your money 🙂 You can email me to request the 5 day plan.
Best of all the entire program is only $49 which makes for a great gift – even if you get it for yourself 🙂
And if you want to get a Hot Mommy Makeover program for yourself and one for your mom then just pay $10 more and you can both do the program together.
That's a really good deal, right?
Like I said, the Hot Mommy Makeover program starts next week on Monday, May 14th and I only have room for 17 people on this program.
If you think this is right for you (and I'm guessing it is) then just reply to this email and we'll reserve one of
the 17 spots for you.
Committed to your health & fitness success,
Your friend & coach,
Brien
**************************************************************************
Join me on Facebook (click here) for answers to all your health, fitness, and nutrition questions.
Please Write Me a Review on Yelp: Belmont Boot Camp, Burlingame Boot Camp, Redwood City Boot Camp, Personal Training & Nutrition
**************************************************************************
I work with those who desire weight & fat loss, pain reduction and stress management through comprehensive exercise, nutrition & lifestyle strategies. My dream  is to coach those who seek my help live their passions with happiness & love.
Thank you for allowing me to help you.
**************************************************************************
Check our life-changing fitness and nutrition programs to help you live your healthiest, fittest, and most energetic life ever!
Brien Shamp BS CSCS CMT CHEK NLC II
Personal Trainer, Nutrition and Lifestyle Coach
www.BrienShamp.com
www.Shamp'sBootCamps.com
www.10 DayDetox.com
www.21DayDetox.com
650-654-4604