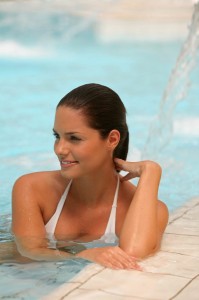 Earlier this week I sent you an email telling you all about my "Hot Mommy Makeover" fitness, nutrition & lifestyle program that starts this coming Monday, May 14th.
This is the same program my Mom (see photo) used to get ready for her wedding.
If you missed the email here it is again: Hot Mommy Makeover
It's a 5 day program created to give you or your mom five fun and amazing workouts with a nutrition & lifestyle plan to burn fat and build muscle tone.
The program includes five workouts and my 5 Day Detox Program designed to take the guess work out of grocery shopping and preparing fat burning meals (no supplements needed).
You won't be hungry or feel weird, but you will become MUCH more balanced- you should feel energized, sleep better, recover faster and no longer have the cravings for carbohydrates and sugar. Not only that, it's super easy, Healthy, and all natural 🙂
My team of coaches and I will also lead you in 5 consecutive "Fat Buster" boot camp workouts held at my Boot Camps in Belmont, Burlingame, Redwood City or Menlo Park.
This 5 Day Detox program has proven to reduce 5 pounds in 5 days (yeah, the 5 pounds stay off, but that ultimately depends on you).
The program also includes a boatload of motivation and accountability.
Best of all the entire program is only $49 which makes for a great gift – even if you get it for yourself 🙂
And if you want to get a Hot Mommy Makeover program for yourself and one for your mom or friend then just pay $10 more and you can both do the program together.
Pretty sweet deal, right?
I am going to make it even sweeter…
As a BONUS, after you complete all 5 consecutive workouts, I'll throw in another 2 weeks for FREE if you sign up for one of our on-going monthly programs (So you can continue working on your mommy makeover goals!) *You don't have to decide on that now.
You can see all the Boot Camp locations & times for next week here: Hot Mommy Makeover
Since the last email we had a good number of people reserve their spot for this program, so if you're interested in joining us for the 5- day Hot Mommy Makeover program that starts this Monday,
May 14th then simply reply to this email.
Spots are very limited, so don't wait around and miss out.
Talk soon,
Your friend & coach,
Brien
P.S. The last day to sign up is Saturday @ midnight.
P.S.S. I will give you a personalized photo (on the right) as a souvenir of the program 🙂 Do you see the resemblance between my Mother & I? It's been a long day.

P.S.S.S. If you have questions, reply to this email or call me on my cell @ 650-654-4604