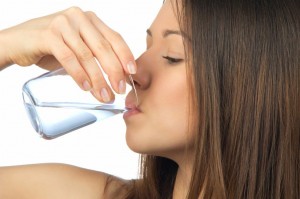 I hear this quite a bit when working with frustrated clients on weight management.
As you know, weight loss and fat loss can be simple for some and tough for others.
It is very common for male clients on my programs to lose up to 20 pounds in 1 month and females to only lose 5 pounds.
Sorry ladies.
I know you have heard that 2-3 pounds of weight loss per week is ideal and safe; however; that is the recommendation when undergoing caloric restriction or dieting.
I am not a dieting kind of guy and I will never tell you to count calories.
I have never seen an animal in the wild count calories and neither should you. I have never seen an animal in the wild drink a Frappuccino or consume processed, packaged, genetically altered foods and neither should you.
Some make phenomenal, fast changes in weight and fat reduction because they are clearly off with their ideal nutrition & lifestyle.
If someone eliminates dairy and they lose 5 pounds in 2 days, they most likely have some kind of dairy intolerance, reactivity, sensitivity or allergy.
It doesn't have to be just limited to weight loss. One may also notice a reduction in allergies, asthma, digestive issues, inflammation and more when eliminating certain foods.
There surely isn't the one diet for all out there, but there are some general guidelines. If you have been a subscriber or client of mine for a while, I repeat those general guidelines quite often.
Generally, when I first meet a client that is struggling with weight and fat loss issues, I ask them if they can commit to reducing grains and pasteurized dairy for 21 days.
See Fat Loss Tip #2: Reduce Carbohydrates & Fat Loss Tip #16: Eliminate Dairy for 7 Days
Interestingly enough, the above tips along with my 35 other Fat Loss Tips, Detox Programs, Nutrition & Lifestyle Coaching, Personal Training, Boot Camps, Running Programs, Lab Testing does not always lead to success.
What's the deal?
Does it mean that these people "who have tried everything" are destined for a life of belly fat and increasing waistlines?
From my experience and my optimistic attitude, I believe that you can never try everything and there is a model for success if you are committed and open to finding it.
Yesterday, I was talking with a Master Hypnotherapist and friend of mine, Shannon Doyle about her success with weight loss & hypnosis. Check out our conversation below:
"I'm following up with you regarding our conversation on Hypnotherapy for weight loss and, more importantly, stress management. I have attached the following article if people are curious about hypnotherapy's overall effectiveness in helping them achieve their goals. I've been a hypnotherapist for almost ten years, I took a break for a few and recently started my practice again.
As I work with my clients I am sincerely amazed by the effectiveness of this modality and how dramatic people's changes are within such a short period of time. Whatever the clients issue it can be dealt with, from habit control to fears, phobias and low self-esteem, it's effectiveness is incredible!
Hypnotherapy is the perfect complement to any weight loss program as it goes deep into the subconscious to guide you into real and lasting changes!"
Here is an interesting article that Shannon sent me "Hypnosis Can Help Shedw Weight Without Pill Popping."
Check out what Dr. Oz says about hypnosis and weight loss here: Dr. Oz
Good news: I asked Shannon if she could give my subscribers and clients a special rate on a session and she said YES!
Try a session for only $67 (Regular Price: $125): Special Hypnosis Session Sign Up *This offer will be good until Sunday at midnight.
With this session you will receive an assessment, a full session and an mp3 recording sent directly to your email for you to download and listen to whenever you would like!
The mp3 recording is a huge additional bonus given you can wind down in the evenings listening to the session which will then allow you to free your mind and relax. You will sleep better and wake up with energy and a focus on what you need to do for the day to be successful.
You don't need to be in the area to take advantage of the deal. The session can be done on the phone and recorded also.
One of my clients had a few sessions with Shannon and had great success:
"Shannon is amazing! I began seeing Shannon a few months ago, with great skepticism and doubt about the process. I really thought it was all a bunch of baloney! I was wrong and quickly became a believer!
My sessions with Shannon produced quick results and created great change in my life. We worked on many things, including stress reduction and relaxation. I quickly noticed that my reactions and feelings were different than usual and I was feeling empowered, calm, and relaxed throughout the day. I went in one day to see Shannon about something very specific for an upcoming event, something that I had been working on for years with little success. I attended my event, and the outcome was a total success! Shannon is warm, caring, encouraging and positive. She is great to work with!" D.C. 7/10/2012
I fully endorse Hypnosis for weight loss and believe it can complement a comprehensive exercise, nutrition and lifestyle program.
Take advantage of the special rate today and give Hypnosis a try: Only $67 until Sunday at Midnight
Your friend & coach,
Brien
P.S. I will not receive any commissions on sales, but I do know that if you take Shannon up on her offer you will be more likely to work harder with your exercise program and be more consistent with your ideal nutrition intake!

**************************************************************************
Join me on Facebook (click here) for answers to all your health, fitness, and nutrition questions.
Please Write Me a Review on Yelp: Belmont Boot Camp, Burlingame Boot Camp, Redwood City Boot Camp, Personal Training & Nutrition
**************************************************************************
I work with those who desire weight & fat loss, pain reduction and stress management through comprehensive exercise, nutrition & lifestyle strategies. My dream is to coach those who seek my help live their passions with happiness & love.
Thank you for allowing me to help you.
**************************************************************************
Check our life-changing fitness and nutrition programs to help you live your healthiest, fittest, and most energetic life ever!
www.BrienShamp.com
www.Shamp'sBootCamps.com
www.10 DayDetox.com
www.21DayDetox.com
650-654-4604
About Brien Shamp's Boot Camps, Personal Training, Nutrition & Lifestyle Coaching:
Launched by fitness expert Brien Shamp in 1996, Brien Shamp's Boot Camps, Personal Training, Nutrition & Lifestyle Coaching is a co-ed personal training fitness program which specializes in the areas of weight loss, nutrition & lifestyle coaching and boot camps. Program details and client testimonials are available at www.BrienShamp.com. Shamp, a certified fitness expert with 22 years experience in the fitness industry, can be reached at beshamp@brienshamp.com or 650-654-4604.
About Brien Shamp, Fitness Expert:
Shamp is a certified fitness expert (Bachelors Degree in Biomechanics from UC Davis, Extensive Graduate Studies in Exercise Physiology, Reiki Practitioner (Level 2), CHEK Nutrition & Lifestyle Coach (Level 2), Advanced Metabolic Typing Advisor, Medical Massage Therapist, Personal Trainer (ACSM), Strength & Conditioning Specialist (NSCA), USA Weightlifting Coach and Acu-Yoga) with 22 years of experience in the fitness industry. Shamp won the World's Best Personal Trainer Contest by Met-Rx in 2000 and was a judge in 2001. In 2009, he was nominated "Best in the Bay" for Weight Loss by KRON 4. In December 2011, Shamp was nominated one of the top 10 Personal Trainers in the country by Personal Fitness Trainer Magazine. Shamp can be reached at beshamp@brienshamp.com or 650-654-4604 and is available for media interviews on topics related to health, wellness and fitness.