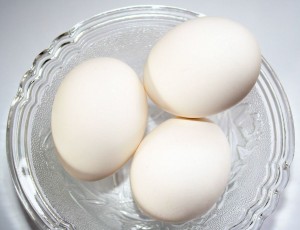 Meals that are filled with protein and fat, like this omelet, help to curb between-meal cravings. Enjoy the unique flavor blend of turkey, apple, goat cheese and cinnamon. Servings: 2
Here's what you need…
3 slices turkey bacon
1 small apple
dash of cinnamon
6 whole eggs
dash of sea salt
dash of pepper
1 Tablespoon of unsweetened coconut milk
3 Tablespoons goat cheese
Place a non-stick skillet over medium heat. Cook the bacon strips for 4 minutes each side, until golden.
While bacon cooks, dice the apple. Remove bacon strips from skillet, place on a cutting board. Place the apple pieces in the heated skillet and sauté for 5 minutes, sprinkling with a dash of cinnamon. Dice the bacon and place in a medium sized bowl.
In a bowl whisk the whole eggs and coconut milk. Beat the eggs until frothy and add dash of salt and pepper.
Remove apples from skillet and add to the bowl of bacon. Pour half of the egg mixture in the skillet, cook until set and then flip and cook the other side. Repeat with the other half of egg mixture.
While eggs cook, mix the bacon, apples and goat cheese together.
Fill each omelet with half of the bacon, apple and goat cheese mixture.