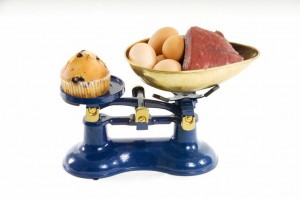 Here's a great recipe to bring to your next holiday party. Fresh fruit, nitrate-free bacon crumbles and high-quality goat cheese crumbles make a tasty appetizer that is gluten-free and caveman-friendly! Servings: 6
Here's what you need (choose organic ingredients):
6 figs, halved
1 Tablespoon balsamic glaze
6 Tablespoons goat cheese
1 slice nitrate free, organic bacon
Preheat oven to 350 degrees F.
In a medium skillet cook the bacon until crispy. Allow to cool then crumble.
Lightly grease a baking pan with olive oil.
Halve the figs and line, cut side up, on the prepared pan.
Drizzle balsamic glaze on the cut side of each fig. Sprinkle with goat cheese and bacon crumbles.
Place in oven for 5-8 minutes. Serve immediately.
Nutritional Analysis: One serving equals: 98 calories, 3g fat, 68mg sodium, 14g carbohydrate, 2g fiber, and 4g protein