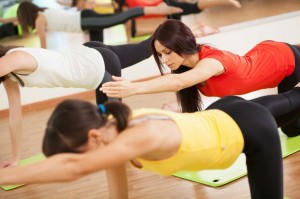 Happy Monday!
It was a brutal day yesterday…. 8 hours of labor (not sure I was made for that kind of stuff. World's Toughest Mudder was way easier). We did quite a bit of work converting my personal training studio to a group friendly, boot camp environment. It is now ready to rock for boot camps at 5:30 am starting today and then evening programs starting on the 21st. More improvements are coming this week.
I did the best I could to let go of equipment no longer needed for boot camp programming. I am selling an Olympic weightlifting platform and 3 FreeMotion Strength Machines if you want them.
NEW Locations & Times:
• Shamp's Studio Boot Camps (NEW)
248A Harbor Blvd.
Belmont, California 94002
Times & Days
• 5:30-6:15 am: Monday, Wednesday & Friday (starting Jan. 14, 2013)
• 5:15-6:05 pm: Monday, Tuesday, Wednesday & Thursday (starting Jan. 21, 2013)
• 6:10-7:00 pm: Monday, Tuesday, Wednesday & Thursday (starting Jan. 21, 2013)
• Peninsula Gymnastics in San Mateo (6 am Belmont Location is full so this will be the new go to location)
1740 Leslie Street
San Mateo, CA 94402
Times & Days
6:00-6:50 am: Monday, Wednesday, Thursday & Friday (starting Jan. 21, 2013)
In celebration of the new programs, I am giving away several scholarships to those in need. Can you think of someone that would like to be in the program but can't afford it? I am going to give away the following 6 week scholarships:
5 @ San Mateo Boot Camp- 6 am
2 @ Shamp's Studio Boot Camps- 5:30 am & 6:10 pm (2 each)
2 @ Burlingame Boot Camp @ 7:00 am.
Let me know by email who is deserving of these 11 scholarships and why and I will pick the winners to start on Monday, January 21st. They must be able to start on the 21st.
Programs to check out:

• Trail & Hiking Group- Every Saturday @ 7:30 am: Schedule
• Boot Camp Foundations 1/19 @ 9am: Sign up here *Highly recommended for those new to the program or
those who want more instruction.
• All Nutrition & Lifestyle Programs (Detox Programs & Metabolic Typing) are 15% OFF until January 31st at mid-night. You can learn about the programs here: Nutrition & Lifestyle Programs

You can purchase the programs and take advantage of the 15% OFF Sale below (discount given at check out):
For those of you in the New Year's Revolution Challenge, remember:

1. Each referral to the boot camp program or the detox programs earns you 2 points.
2. Facebook Posts – You get 1 point for every 5 times you post something about the program on Facebook and tag Shamp's Boot Camps (limit of 1 post per day).
In this newsletter, you will see an article called "Are you "Active" or are you Fit? " and a One Pot Chicken and Veggie Dinner recipe below.
See my latest articles here: www.BrienShamp.com
Have a great week!
Brien