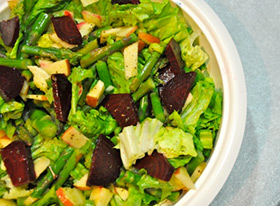 Here's a delicious salad recipe to serve with your dinner. Tender asparagus, sweet beets and crunchy apples make this salad far from ordinary. The simple recipe below for homemade dressing contains none of the chemicals and preservatives of store bought dressing. Servings: 6
Here's what you need (choose organic ingredients):
For the Healthy Salad Dressing
1 Tablespoon Dijon mustard, organic
1/4 cup red wine vinegar
1/4 cup olive oil
2 Tablespoons fresh orange juice
1 Tablespoon dried, ground mint
1 packet Stevia
For the Beet & Asparagus Salad
3 beets
1 bunch asparagus
1 apple, chopped
2 celery stalks, chopped
4 cups mixed greens
For the dressing: Combine all the ingredients in a small bowl and whisk until well combined. Set aside.
Trim the ends from each beet. Place in a small pot of water and boil for 10-15 minutes. Remove from the water and allow to cool before peeling and slicing. Set aside.
Trim the ends from the asparagus and cut into 1-inch pieces. Bring a small pot of water to boil and fill a medium bowl with ice and cold water. Add the asparagus pieces and boil for about 3 minutes, until bright green. Remove from the hot water and throw into the ice bowl for 20 seconds. Remove from the water and set aside.
Place the mixed greens in a large salad bowl and top with the beets, asparagus, apple and celery. Drizzle with the dressing and serve.
Nutritional Analysis: 134 calories, 9g fat, 131mg sodium, 10g carbohydrate, 4g fiber, and 4g protein