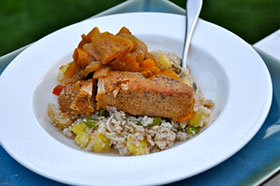 Here's a slow cooker recipe that cooks while you are away at work, making it convenient and easy to eat a healthy dinner. Serve these pork ribs over a bed of cauliflower rice or fresh spinach. Makes: 6 Servings
Here's what you need (choose organic ingredients)…
For the Tropical Spice Rub:
1/4 cup coconut flour
1/2 teaspoon pepper
2 teaspoon dried ground mustard
1 teaspoon allspice
1 teaspoon smoked paprika
For the Tropical Pork Ribs:
1-3 lbs boneless country style ribs
2 Tablespoons coconut oil
1/2 yellow onion, chopped
2 red apples, chopped
1/2 cup fresh pineapple, chopped
dash of smoked paprika
salt and pepper to taste
small butternut squash, peeled, seeded and cubed
1/2 orange bell pepper, chopped
1/2 red bell pepper, chopped
1/2 cup apple sauce
In a medium bowl combine the Tropical Spice Rub ingredients.
Rinse and pat dry the pork ribs. Season with salt and pepper, then coat each side with the Tropical Spice Rub.
In a large skillet, place the coconut oil over medium-high heat. Place the coated ribs in the skillet, and brown on all sides.
Place the browned ribs in your slow cooker.
In the skillet, over medium heat, combine the remaining ingredients. Heat for 5 minutes, mixing until fully incorporated. Remove from heat and spread evenly over the top of the ribs.
Cover and cook on low for 4-6 hours.
Nutritional Analysis: One serving equals: 359 calories, 12g fat, 405mg sodium, 23g carbohydrate, 4g fiber, and 23g protein