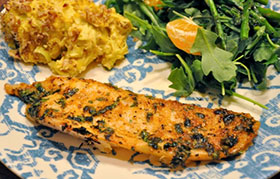 Think that cooking healthy is difficult or time consuming? This recipe will make you think again. Simply combine the flavorful marinade ingredients, brush over the fillets and bake. That's it! Add a side of veggies and a dark green salad for a delicious fitness approved meal. Servings: 4
Here's what you need:
4 wild halibut fillets
1 Tablespoon coconut aminos
Juice from one lime
2 garlic cloves, minced
2 teaspoons fresh ginger, minced
1 Tablespoon olive oil
1 teaspoon toasted sesame oil
2 Tablespoons fresh cilantro, chopped
1/4 teaspoon sweet paprika
Preheat the oven to 350 degrees F. Lightly grease a baking pan with olive oil.
Rinse the fillets and pat dry. Place in the prepared pan.
In a small bowl combine the remaining ingredients. Brush over the fillets.
Bake for 15 minutes, then turn the oven to broil for an additional 3 minutes.
Nutritional Analysis: One Serving equals: 201 calories, 7g fat, 250mg sodium, 3g carbohydrate, 1g fiber, and 30g protein