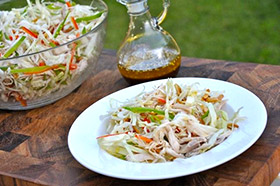 Warm summer evenings call for light, refreshing dinners like this light Sesame Chicken Salad. Most sesame salads contain crispy noodles, but I've taken those out of this recipe, making it lower in carbs to help you towards your fitness goal. Servings: 6
Here's what you need…
1/4 cup slivered almonds
1 small organic green cabbage
1 cup pea pods, thinly sliced
1 red bell pepper, thinly sliced
2 cup shredded cooked chicken
For the Sesame Dressing:
6 Tablespoons olive oil
4 Tablespoons apple cider vinegar
4 Tablespoons coconut aminos, or low sodium soy sauce
1 packet Stevia
1 teaspoon toasted sesame oil
1 teaspoon sesame seeds
In a small skillet place the slivered almonds over medium-low heat. Stir often until golden brown.
Remove from heat.
Wash the cabbage and cut into long thin strands. Do the same with the pea pods and the red bell peppers – the thinner you slice the better.
Mix the cabbage, bell pepper, pea pods, chicken and almond slivers in a large salad bowl.
Combine the salad dressing ingredients together.
Plate the salads and drizzle with some dressing.
Nutritional Analysis: One serving equals: 202 calories, 10g fat, 89mg sodium, 10g carbohydrate, 3g fiber, and 17g protein