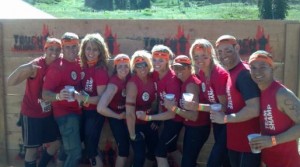 Happy Sunday!
I hope you had a great weekend. I am back at home and recovering.
No major injuries for anyone on Team Shamp, but it was a long day at the office:
6 hours of running, hiking, crawling, sprinting, monkey bars, jumping, getting shocked, carrying logs, sun, water, ice, bananas, electrolyte pills, Cliff Shot Blocks, team work and more (I can't remember the rest given the electric shock therapy I received…see below)
23 miles total (11.5 per Mudder)
I was hit at least 15 times by the electric shocks obstacles. This has never happened in the past. At the finish line I was shocked so hard it threw my head into the ground. Apparently, it was quite fun to watch as I got lots of cheers from spectators and two hugs from volunteers (I think they felt sorry for me :))
Lots of mud
Lots of scraps and cuts 🙁
Mike, Kevin and I did the first Mudder in approximately 2 hours 15 minutes and then Mike and I joined Team Shamp (photo on top) for the second Mudder, which took us 4 hours.
Congrats to all on Team Shamp, you are an awesome team.
My wife, Chris did her first Mudder and I am so proud of her. She was quite scared of heights and jumped off a 20 foot platform into water.
All of our training clearly paid off. We could have done it much faster the second time, but given the large crowds (approx. 15,000 Mudders) we were kept to a slow jog, fast hike for much of the course.
And congrats to Semisi and the team from Menlo Fit…the All Terrain Runners. We didn't see you much, but impressive work!
Next Team event is the Spartan Race in Monterey, August 10th. Team Shamp will be joining the All Terrain Runners for the event. It is not too late to join and be part of the Team–>
Don't forget to order your Farmigo (on-line farmers market) tonight my mid-night. You can find out more about how it works here–> Farmigo
Your friend & coach,
Brien
P.S. Please share my educational content with your friends and family and help me reach my goal of 10,000 subscribers.
**************************************************************************
Join me on Facebook (click here) for answers to all your health, fitness, and nutrition questions.
Please Write Me a Review on Yelp: Belmont Boot Camp, Burlingame Boot Camp, Shamp's Studio Boot Camps
**************************************************************************
I work with those who desire weight & fat loss, pain reduction and stress management through comprehensive exercise, nutrition & lifestyle strategies. My dream is to coach those who seek my help live their passions with happiness & love.
Thank you for allowing me to help you.
**************************************************************************
Check our life-changing fitness and nutrition programs to help you live your healthiest, fittest, and most energetic life ever!
Brien Shamp BS CSCS CMT CHEK NLC II
Personal Trainer, Nutrition and Lifestyle Coach
www.BrienShamp.com
www.Shamp'sBootCamps.com
www.10 DayDetox.com
www.21DayDetox.com
650-654-4604