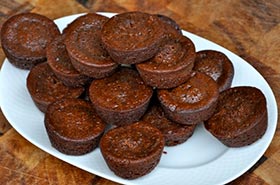 Boxed brownie mixes are filled with refined sugars and grains, so make with this recipe instead. It's always a good idea to make these brownies in a mini muffin pan since this really forces portion control. Just eat one brownie and you'll be able to enjoy this wholesome treat guilt-free! Servings: 24
Here's what you need:
3.5 oz dark chocolate (72% cocoa or higher)
1/2 cup coconut oil
1/3 cup raw honey
2 eggs
1 Tablespoon vanilla extract
1/4 teaspoon almond extract
3/4 cup blanched almond flour
1/2 tsp salt
1/2 cup mini chocolate chips
Preheat oven to 350 degrees F. Grease a mini muffin pan with coconut oil.
In a double boiler, gently melt the chocolate, coconut oil and raw honey. Remove from heat, allow to cool, add the eggs, vanilla and almond extracts.
In a medium bowl combine the almond flour and salt. Add the wet ingredients and mix well. Stir in the mini chocolate chips.
Fill the mini muffin tins nearly to the top. Bake for 15-25 minutes until golden and set.
Allow the brownies to cool in the pan – if you don't wait then they fall apart!
Nutritional Analysis: One serving equals: 125 calories, 8g fat, 48mg sodium, 8g carbohydrate, 1g fiber, and 2g protein