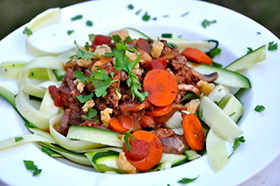 Making noodles out of fresh zucchini dramatically cuts down on the carbs and calories in your dinner, while increasing the fiber content. Imagine what an impact this simple food trick could have on your fitness results if you always chose zucchini noodles over traditional noodles. Serving: 6
Here's what you need…
1 Tablespoon olive oil
6 cloves garlic, minced
1 yellow onion, chopped
1 fennel bulb, chopped
4 carrots, sliced
1 cup mushrooms, sliced
1/4 cup chopped olives
2 (14.5 oz) cans diced tomatoes
1 (14.5 oz) can tomato sauce
2 Tablespoons tomato paste
1/2 cup dry red wine (Cabernet works well)
2 Tablespoons Italian seasoning
1/2 teaspoon sea salt
1/4 teaspoon black pepper
1/4 teaspoon sweet paprika
1 pound ground turkey
6 zucchinis
1/4 cup fresh Italian parsley, chopped
In a large skillet, place the olive oil over medium heat. Add the garlic, onions and fennel. Cook for 5 minutes, until soft. Add the carrots, cover and cook for another 5 minutes. Remove from heat.
Coat the inside of your slow cooker with olive oil. Add the cooked veggies, mushrooms, olives, tomatoes, tomato sauce, tomato paste, wine and the seasonings. Mix well.
Add the turkey on top of the veggie mixture, breaking it into chunks. Lightly press the turkey down into the sauce, but be careful not to break up the chunks.
Cook on low heat for 7 hours.
Wash the zucchini, use a vegetable peeler to create long, flat noodles. Stop when you get to the seedy middle part of the zucchini. Plate the zucchini noodles and top with warm turkey spaghetti sauce. Sprinkle with chopped parsley.
Nutritional Analysis: One serving equals: 276 calories, 8g fat, 383mg sodium, 18g carbohydrate, 6g fiber, and 21g protein