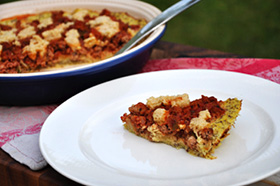 This innovative spaghetti pie is made with noodles straight from a squash…not a package! It's a fun way to serve a traditional, comfort meal without the guilt. Dinners like this are a wonderful way to quickly achieve your fat loss goal. Serving: 6
Here's what you need…
1 organic spaghetti squash
1/2 cup raw cashews, soaked in hot water for 10 minutes
2 teaspoons lemon juice
2 teaspoons water
2 Tablespoons olive oil
1/2 teaspoon salt
1/8 teaspoon onion powder
1/8 teaspoon sweet paprika
1/2 clove garlic
dash of pepper
1 Tablespoon coconut oil
1 yellow onion, chopped
1 small green bell pepper, chopped
1 garlic clove, minced
8 ounces ground turkey or beef
1/2 teaspoon fennel seeds, crushed
1 8-ounce can tomato sauce
1 teaspoon dried oregano, crushed
2 eggs, beaten
2 Tablespoons flax meal
2 Tablespoons nutritional yeast
Wash the spaghetti squash, slice in half lengthwise and bake cut-side up in a 375 degree F oven for 40 minutes, or until tender. Remove from oven and set aside to cool.
Discard the cashew soaking water. Combine the cashews, lemon juice, water, olive oil, salt, paprika, garlic and pepper in a blender. Mix until completely smooth. Set the cheese spread aside.
In a large skillet warm the coconut oil over medium-high heat. Add the onion, bell pepper and garlic. Sauté for 3 minutes. Add the ground turkey and cook until the meat is brown and onion is tender. Stir in fennel seeds, tomato sauce, and oregano. Heat through. Remove from heat.
Use a fork to scrape the spaghetti squash strands from the squash skins and place in a medium bowl. Add the eggs, flax meal and nutritional yeast. Mix until fully incorporated. Coat a 9-inch pie plate with coconut oil. Press spaghetti squash mixture onto the bottom and up sides of pie plate, forming a crust. Spread the meat mixture over the crust. Sprinkle with the cheese spread.
Bake in a 350 degree oven for 20 to 25 minutes or until bubbly and heated through. Slice into wedges to serve.
Nutritional Analysis: One serving equals: 289 calories, 19g fat, 347mg sodium, 19g carbohydrate, 5g fiber, and 16g protein