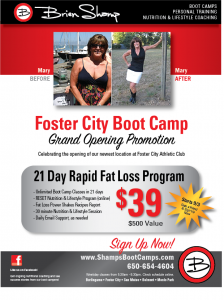 Hey there,
I hope you are having a great week so far.
I have a few updates for you. I will start with one of the bad things first….
Even with all of your support (which I am extremely grateful for), I didn't get selected to share my story on obstacle racing on NBC and I will not be going to the World Championships in Vermont on Saturday. Thank you all again for your support!
Good news…I will be attending a great fitness seminar this weekend in LA with one of my mentors and I will be back on Monday with some new ideas and energy!
Bad news…the San Mateo Boot Camp at Peninsula Gymnastics will close at the end of the month given a lack of interest in that location and the proximity of the new locations (Foster City, Belmont and Burlingame)
Good news…There is a NEW Boot Camp coming to San Carlos October 2nd- San Carlos Boot Camp.
The new location will be at Central Middle School: 828 Chestnut Street, San Carlos, Ca 94070
*Parking is best along Cedar Avenue between Arroyo and Cherry Streets.
Times & Days
6:15-7:00 am: Monday, Tuesday, Wednesday  & Friday
*Showers are available 🙂 (We now have showers in San Carlos, Menlo Park & Foster City locations)
*As the demand for the program increases, we will start a 5:30 am Program (goal is November-let me know your interest).
We will continue the Grand Opening Special (21 Day Rapid fat Loss Program for Only $39) for the San Carlos Boot Camp and all locations in celebration of our new location