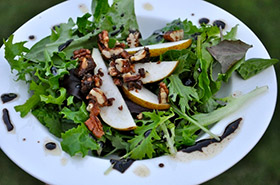 You know that eating lots of greens is key component to shrinking belly fat, so try this delicious field greens salad. Add a side of lean protein to this recipe, like sliced chicken breast, for the perfect, fitness-approved meal. Servings: 4
Here's what you need…
For the Salad:
1 Tablespoon organic coconut oil
1/3 cup roughly chopped organic pecans
3 Tablespoons coconut crystals
4 cups organic, mixed greens
1 Bosc pear, sliced
For the Dressing:
1/3 cup olive oil
1/4 cup balsamic vinegar glaze
1 packet stevia
1 Tablespoon fresh thyme
1 teaspoon Dijon
1 minced garlic clove
dash of pepper
In a small skillet, place the coconut oil over low heat. Once melted, add the pecans and cook, stirring constantly, for 3 minutes. Add the coconut crystals. Continue to cook, stirring constantly, for about 4 minutes, until the crystals have melted and the pecans are golden. Remove from heat, set aside.
Combine the dressing ingredients in a small jar. Mix well.
Divide the greens and sliced pears between 4 plates. Top with the candied pecans and drizzle with dressing. Enjoy!
Nutritional Analysis: One serving equals: 196 calories, 14g fat, 49mg sodium, 15g carbohydrate, 3g fiber, and 2g protein.