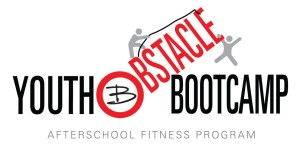 Coming in November….
The Youth Obstacle Boot Camp, is an After School obstacle-based fitness program for kids eight and up, developed by Brien Shamp and Mike King.
The program is designed to help kids get fit while having fun. It is also designed to promote confidence, leadership, and teamwork—skills that kids can use for a lifetime.
WHAT IS THE OBSTACLE COURSE LIKE?
Each course employs obstacles and other equipment such as hurdles, battle ropes, monkey bars, quick-foot ladders, balls, and cones to help develop dexterity, endurance, and agility. By tackling these obstacles, kids will also develop a mental strength that they can use for a lifetime.
Each session begins with instructions and warm-ups, which are then followed by the day's obstacle course. The obstacle course in each session is set up differently. This not only keeps boredom at bay, it also teaches kids to adapt to changing environments and to embrace new challenges.
Kids are divided into small groups so that the obstacle course can be completed in a timely manner (generally 25-30 minutes). Each group will rotate through the obstacles until all obstacles have been completed. A 5-10 minute cool-down completes the class.
WHAT IF MY KID ISN'T ATHLETIC?
Your kid does not need to be athletic to participate! The program is designed to help develop athletic skill—athletic skill is not a requirement. Each obstacle can be modified to suit a kid's specific physical strengths, and our trainers will work closely with your kid to make sure your kid can confidently tackle each obstacle.
WHAT IF MY KID IS ALREADY VERY ATHLETIC?
If your kid is very athletic or already is an athlete, the obstacles will enhance your child's agility, coordination, and endurance. Our trainers will work closely with your kid to make sure your kid is appropriately challenged. This program is also a great compliment to every sport since it focuses on strength building and cardiovascular conditioning.
WHAT WE BELIEVE
We believe that children who associate fun with fitness are more likely to adopt healthy physical and mental habits that they will use for a lifetime.
WHO IS THIS PROGRAM FOR?
The Youth Obstacle Boot Camp is the perfect fit for kids who want to:
•    improve their overall fitness level
•    cross-train for a specific sport
•    lose weight and build strength
•    build-up coordination, agility, and endurance
•    participate in team building activities
•    learn leadership skills
•    have fun!
WHO RUNS THE CLASSES?
Classes are taught by the same Certified Personal Trainers and Coaches Brien Shamp employs for his adult Boot Camps. Trainers for The Youth Obstacle Boot Camp are hand-picked based on their previous experience working with kids. There are two trainers present in each class, and all trainers are CPR-certified.
The Youth Obstacle Boot Camp will take place at:
Shamp's Studio Boot Camps
248A Harbor Blvd., Belmont, CA 94002
Start Date To Be Determined (Should be first week in November)
Program Days & Times:
MWF: 3:30 – 4:10 pm for Kids grades 3-5
MWF: 4:20 – 5:00 pm for Kids grade 6 and above
Please let me know if you are interested in our new program for your youth!
Space will be limited to 15 per session for this NEW Beta Test Program.
I would greatly appreciate sharing because sharing is caring 🙂
Your friend & coach,
Brien
P.S. Please share my educational content with your friends and family and help me reach my goal of 10,000 subscribers.
**************************************************************************
Join me on Facebook (click here) for answers to all your health, fitness, and nutrition questions.
Please Write Me a Review on Yelp: Belmont Boot Camp, Burlingame Boot Camp,  Shamp's Studio Boot Camps **************************************************************************
I work with those who desire weight & fat loss, pain reduction and stress management through comprehensive exercise, nutrition & lifestyle strategies. My dream  is to coach those who seek my help live their passions with happiness & love.
Thank you for allowing me to help you.
**************************************************************************
Check our life-changing fitness and nutrition programs to help you live your healthiest, fittest, and most energetic life ever!
Brien Shamp BS CSCS CMT CHEK NLC II
Personal Trainer, Nutrition and Lifestyle Coach
www.BrienShamp.com
www.Shamp'sBootCamps.com
www.10 DayDetox.com
www.21DayDetox.com
650-654-4604