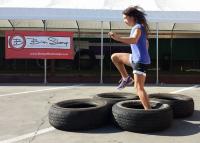 Happy Monday!
The obstacles are almost complete for Friday's Grand Opening of the New Youth Obstacle Boot Camp. Mike built two military climbing walls and a youth Mt. Everest as seen in Tough Mudder. Monkey bars have been built, climbing ropes are hanging from the ceiling, tires are ready for footwork drills, flipping, carrying and dragging. Tightrope walking and crawling straps are ready to test balance and stability. A new cargo net for climbing will be attached by Friday.
You can see all of the daily updates for the Youth Obstacle Boot Camp here–> Youth Obstacle Boot Camp Facebook Page Please like our new page.
For more information and to register go to: www.YouthObstacleBootCamp.com
Every Halloween some of us play dress up in Boot Camp : )  Many of the programs are MTW&F and Thursday is Halloween.  Please dress up on Wednesday if you are attending a MTWF Program. Dress up on Thursday also if you also attend a Thursday class. Anything you can do would be great and fun. The Coaches will take a class photo at the end for those who dress up. Prizes will be given to those with the best costumes. Please post on Shamp's Boot Camps Facebook Page
Sign up for the Holiday Transformation Challenge! If you haven't started yet, you can begin whenever you are ready. However, the clock is ticking. Each day that goes by you lose a day for your transformation. For more details and to register to win $1000 and prizes–> Holiday Transformation Challenge
Join us at San Carlos Boot Camp or at any of the other 6 Bay Area locations and take advantage of our Grand Opening- 21 Day Rapid Fat Loss Program for only $39. Check out the details here–> Grand Opening Promo 
The Trail Run & Hike Group will meet next Saturday, November 2nd (7:00 am) at Waterdog Lake-intersection of Lake and Lyall in Belmont.
We will do between 4-8 miles. You can do more or less, walk, jog or sprint 🙂
For the weekly trail schedule go here: Trail Schedule
We are now using Instagram. I am more or a Facebook kind of guy, but it is interesting. For those of you using Instagram, check us out: Instagram
In this newsletter, you will see an article called "Don't Believe These 5 Myths" and a Cranberry Chicken Salad recipe below.
See my latest articles here: www.BrienShamp.com
Have a great week!
Brien