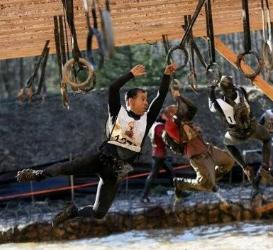 Happy Monday!
Saturday and Sunday (November 16-17th), Coach Mike King and I are participating in World's Toughest Mudder (WTM) in New Jersey. Last year we completed 50 miles + over hundred obstacles in 25 hours. This year our four man team is shooting for 60+ miles and there is even more obstacles, so it will be a tough one. Here is the highlight video from 2012 WTM–> WTM Official Video. If you are interested in tracking us during the event and giving us your support, we have a Facebook Fan Page with a GPS tracker and we will posting updates throughout the race—> Saturday Night Lights. Prayers requested 🙂
Fun times at YOBC (Youth Obstacle Boot Camp).  You can see new photos & videos here–> Youth Obstacle Boot Camp Facebook Page. Please like our new page.
For more information and to register go to: www.YouthObstacleBootCamp.com
The Trail Run & Hike Group will meet next Saturday, November 16th (7:00 am) at Pulgas Ridge Open Space Preserve Trail. For directions and the weekly trail schedule go here: Trail Schedule
We will do between 4-8 miles. You can do more or less, walk, jog or sprint 🙂
NEW: There are two additional group run/walk meet-ups:
Each Thursday @ 6:30 am:  Run/Walk. Meet at Elephant Bar parking lot in Burlingame near the bay trail *Team Captain: Dolores *Please RSVP to Dolores @ ddnoonan@gmail.com if you plan on attending.
Each Sunday @ 8:30 am (starting 11/17):  Run/Walk. Meet at Lake Merced  *Team Captain: Rish Sanghvi *Please RSVP to Rish @ rish.sanghvi@gmail.com (415.430.7656). if you plan on attending.
All Thanksgiving Boot Camp sessions have been cancelled, but we will have a special family boot camp program at Central Middle School from 8-8:50 am and 9-9:50 am. Please RSVP here–> RSVP
Sign up for the Holiday Transformation Challenge! If you haven't started yet, you can begin whenever you are ready. However, the clock is ticking. Each day that goes by you lose a day for your transformation. For more details and to register to win $1000 and prizes–> Holiday Transformation Challenge
Join us at San Carlos Boot Camp or at any of the other 6 Bay Area locations and take advantage of our Grand Opening- 21 Day Rapid Fat Loss Program for only $39. Check out the details here–> Grand Opening Promo 
We are now using Instagram. I am more or a Facebook kind of guy, but it is interesting. For those of you using Instagram, check us out: Instagram
In this newsletter, you will see an article called "The Secret To Enviable Abs" and a Spicy Chicken Chowder with Carrot Noodles recipe below.
See my latest articles here: www.BrienShamp.com
Have a great week!
Brien