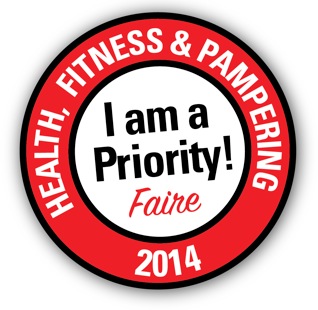 Happy MLK Monday!
We are in the process of looking for a new location for the Foster City Boot Camp. If you know of a good location in Foster City or San Mateo, please let me know. Our last session at our current location will be February 14th.
Don't forget to RSVP for the "I am a Priority" Health, Fitness & Pampering Faire!" this Saturday, January 25th. This is a FREE event for my current clients and a friend. You will have 3 hours to just take some much needed time for you.
The event will be from 11am-2pm at my Studio on Harbor in Belmont.
You will meet some of my trusted resources in the health & wellness field, and get as many FREE 15-minute treatments/consultations as you can from: massage therapists, active release therapists, an ergonomic specialist, a posture specialist, chiropractors, an acupuncturist, dermatologist, career coach, a hypnotherapist, a nutrition & lifestyle coach and still working on more.
Mingle with your fellow boot campers, sample products, learn to meditate, relax with a massage, get a tight/painful area worked on, get a myofascial release and more!
Food will be catered by Weir & Associates.
Lynn Milos from Culinary Twist will be doing a demo of her sauces, making a healthy dish and talking about gluten free-home cooking.
40 have already RSVP'd for the event. There is room for 40 more (current clients and a friend).  If we get more practitioners we will open it up to more. Please RSVP here ASAP: I am a Priority" Health, Fitness & Pampering Faire!
If you are enjoying my weekly recipes and want more, I highly recommend Diana Keuilian's Family Friendly Fat Burning Foods (Paelo Program). I am not necessarily an advocate of Paleo, but she has created quite a resource to keep the food part simple. Check it out here–> Family Friendly Fat Burning Foods
You can join the NEW San Carlos Boot Camp or any of the other 4 Bay Area locations seen here: Boot Camps
The Trail Run & Hike Group will meet next Saturday, January 25th at our new time (7:30 am): Waterdog Lake-intersection of Lake and Lyall in Belmont. We will do between 4-8 miles. You can do more or less, walk, jog or sprint 🙂
For the weekly trail schedule go here: Trail Schedule
We are having a lot of fun on Saturdays at Boot Camp in Belmont. These are generally different workouts than our weekly schedule. We use a few of the obstacles in the Youth Obstacle Boot Camp with  the goal of taking you out of your comfort zone. This will get you ready for Tough Mudder and Spartan in 2014!
I have been adding events to the schedule for 2014–> 2014 Team Shamp Events. Save the dates on your calendars.
Your child can start the Youth Obstacle Boot Camp (YOBC) at any time for 50% OFF. You can see photos & videos here–> Youth Obstacle Boot Camp Facebook Page. 
For more information and to register go to:www.YouthObstacleBootCamp.com
We are now using Instagram. I am more or a Facebook kind of guy, but it is interesting. For those of you using Instagram, check us out: Instagram
In this newsletter, you will see an article called "4 MUST-HAVES in Every Meal" and a Chinese Zucchini Noodle Bowls with Pork Meatballs recipe below.
See my latest articles here: www.BrienShamp.com
Have a great week!
Brien