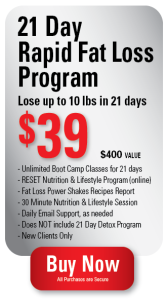 Happy March Monday!
You can join the NEW San Mateo Boot Camp or any of the other Bay Area locations seen here: Boot Camps. Take advantage of the 21 Day Rapid Fat Loss Program for only $39.
Please share the Grand Opening promotion with your family, friends and co-workers. The Grand Opening promotion is good for all locations (new clients only) This promotion will be ending soon.
More than 300 symptoms could be caused by the consumption of gluten, yet a very small percentage of the population knows it could be fueling the cause. This is why "A Grain of Truth: The Gluten Summit" is so important: To help those potentially return to health who have no idea what is fueling their ailments, including you. For more go to: Gluten Summit
If you are enjoying my weekly recipes and want more, I highly recommend Diana Keuilian's Family Friendly Fat Burning Foods (Paelo Program). Check it out here–> Family Friendly Fat Burning Foods
The Trail Run & Hike Group will meet next Saturday, March 8th (7:30 am): Pulgas Ridge Open Space Preserve Trail in San Carlos:Directions
We will do between 4-8 miles. You can do more or less, walk, jog or sprint 🙂
For the weekly trail schedule and directions go here: Trail Schedule
Commit to a fitness event in 2014–> 2014 Team Shamp Events. Save the dates on your calendars.
Your child can start the Youth Obstacle Boot Camp (YOBC) at any time for 50% OFF. You can see photos & videos here–> Youth Obstacle Boot Camp Facebook Page. 
For more information and to register go to:www.YouthObstacleBootCamp.com
We are now using Instagram. I am more or a Facebook kind of guy, but it is interesting. For those of you using Instagram, check us out: Instagram
In this newsletter, you will see an article called "Don't confuse "Active" with Fit " and a One Pot Chicken Dinner with Fresh Dill recipe below.
See my latest articles here: www.BrienShamp.com
Have a great week!
Brien