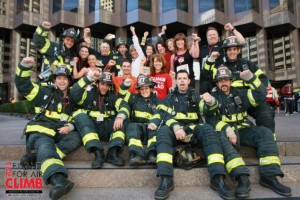 Do you want to hang out with some good looking Firefighters? That should be an easy sell for some of you 🙂
Last year Team Shamp teamed up with the San Mateo Fire Department for the Fight For Air Climb and it was a blast. We hope to have an even better turn out this year and to raise more money for the cause.
On 03/29/2014, hundreds of people will climb their way to the top of the 555 California St. building for a great cause. This is more than your same-old 5K. This event is a vertical race to climb 52 floors. Whether climbing for a winning time or simply to cross the finish line, this event is a great way to challenge yourself physically. They guarantee that all finishers will have a new found respect for healthy lungs!
Yes, we will be on the same team as the San Mateo Firefighters and competing against other Fire Departments from around the bay. You can join regardless of your fitness and skill because the timing is only based on the top participants on each team. So, if you are a little slow climbing up the stairs, you wont hold us back.
Register and sign up under team name: San Mateo City FD here–> Registration
*The team captain is Lance Lutticken-Join this team.
Use code CLIMB2014 to get $10 OFF the registration fee.
Interesting information on breathing related issues and the purpose of the event:
•    Lung disease is the third leading cause of death in the U.S. and is responsible for one in seven deaths.
•    Lung cancer is the leading cause of cancer deaths in the U.S.
•    Asthma is the number one chronic disease of children.
•    COPD currently affects 10.2 million Americans.
•    Air Pollution poisons the lungs of over 60% of Americans each day.
These are the facts. The crisis is real. The American Lung Association needs your help.
If you can't climb with our team, please make a tax-deductible donation to my Fight for Air Climb team by visiting my Personal Page –> Fight For Air Donation
I look forward to fighting and climbing with you for air!!!
Your friend & coach,
Brien
**************************************************************************
Join me onFacebook (click here) for answers to all your health, fitness, and nutrition questions.
Please Write Me a Review on Google +: Google +
Please Write Me a Review on Yelp: Belmont Boot Camp, Burlingame Boot Camp, San Carlos Boot Camp, San Mateo Boot Camp, Shamp's Studio Boot Camp
**************************************************************************
I work with those who desire weight & fat loss, pain reduction and stress management through comprehensive exercise, nutrition & lifestyle strategies. My dream  is to coach those who seek my help live their passions with happiness & love.
Thank you for allowing me to help you.
**************************************************************************
Check our life-changing fitness and nutrition programs to help you live your healthiest, fittest, and most energetic life ever!
Brien Shamp BS CSCS CMT CHEK NLC II
Personal Trainer, Nutrition and Lifestyle Coach
www.BrienShamp.com
www.Shamp'sBootCamps.com
www.10 DayDetox.com
www.21DayDetox.com
650-654-4604