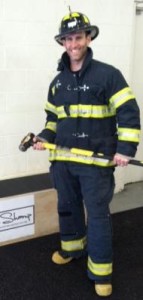 Happy Monday!
This Saturday, 03/29/2014, hundreds of people will climb their way to the top of the 555 California St. building in SF for a great cause. This is more than your same-old 5K. This event is a vertical race to climb 52 floors. Whether climbing for a winning time or simply to cross the finish line, this event is a great way to challenge yourself physically. They guarantee that all finishers will have a new found respect for healthy lungs!
Join Team Shamp as we partner with the San Mateo Firefighters. You can join regardless of your fitness and skill, so no worries if it takes a while to climb all those stairs. The elevator will take you down.
Register and sign up under team name: San Mateo City FD here–>Registration
*The team captain is Lance Lutticken-Join this team.
Use code CLIMB2014 to get $10 OFF the registration fee.
If you can't climb with our team, please make a tax-deductible donation to my Fight for Air Climb team by visiting my Personal Page –> Fight For Air Donation
If you are not up for climbing tall buildings, join Coach Semisi & Kristen for the Family 5K Family Obstacle Course Fun Run,  also taking place on Saturday.This will be a great event for kids. For more information:Registration details
The Trail Run & Hike Group will also meet next Saturday, March 29th (7:30 am) at Waterdog Lake-intersection of Lake and Lyall in Belmont.
We will do between 4-8 miles. You can do more or less, walk, jog or sprint 🙂
For the weekly trail schedule and directions go here: Trail Schedule
We started our NEW 8:30 am session at the Burlingame Boot Camp last week. The program is held on Mondays, Tuesdays, Wednesdays and Fridays. Coach Tonya is leading the group. You can join the NEW Burlingame session at any time, until it sells out.
You can also join the NEW San Mateo Boot Camp or any of the other Bay Area locations seen here: Boot Camps. Take advantage of the 21 Day Rapid Fat Loss Program for only $39.
Boot Camp sessions are getting full! We are no longer accepting new clients for the 5:15 pm session at the Harbor location in Belmont or the 6 am session at Burlingame Boot Camp.
We are working on a new Belmont Studio location that will allow us to accept new clients soon. In 3-6 months, we also hope to have a new Burlingame location where we can offer evening programs.
Please share the Grand Opening promotion with your family, friends and co-workers. The Grand Opening promotion is good for all locations (new clients only). This promotion will be ending soon.
Many of you are in need of a detailed nutrition plan that is easy and effective. I have one for you. My family has really enjoyed the recipes. I highly recommend Diana Keuilian's Family Friendly Fat Burning Foods (Paelo Program). Check it out here–> Family Friendly Fat Burning Foods Diana contributes the weekly recipe in this newsletter.
More than 300 symptoms could be caused by the consumption of gluten, yet a very small percentage of the population knows it could be fueling the cause. This is why "A Grain of Truth: The Gluten Summit" is so important: To help those potentially return to health who have no idea what is fueling their ailments, including you. For more go to: Gluten Summit
Commit to a fitness event in 2014–> 2014 Team Shamp Events. Save the dates on your calendars.
Your child can start the Youth Obstacle Boot Camp (YOBC) at any time for 50% OFF. You can see photos & videos here–> Youth Obstacle Boot Camp Facebook Page.
For more information and to register go to:www.YouthObstacleBootCamp.com
In this newsletter, you will see an article called "Falling off the exercise wagon" and a Easy Gluten-Free Pancakes recipe below.
See my latest articles here: www.BrienShamp.com
Have a great week!
Brien