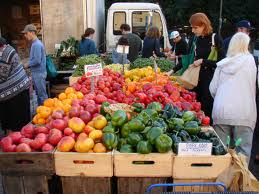 Have you ever struggled with paying too much at Whole Foods? I know I have!
One of my interests right now is how to help others eat good quality foods on a budget.
One of my colleagues from California Health Corp, Dr. Heidi Dulay sent me a great article "Good Nutrition on a Budget." The foods referenced below were for a Latin population given a lecture I was going to give.
Check out her recommendations below and let me know what you think:
1.    Pastured eggs are the best deal for low-cost nutrition. Even the most expensive farmers' market eggs are about 70 cents an egg; cheapest are about 42 cents… There is a huge difference in nutrition between a pastured egg and a conventional supermarket egg…
Make:
    Hard boiled eggs
    Egg salad with homemade mayo (5-minute mayo recipe)
    Egg salad tacos with salsa
2.    Whole pastured chickens – Eat everything including the fatty little butt at the bottom of the back that is full of nutrition… No cooking skill necessary. Put the whole chicken in a pot, cover with water, add ¼ cup of apple cider vinegar (to extract the most minerals from the bones) plus any herbs, e.g. epazote, garlic, cilantro, oregano, thyme and marjoram …
Make:
chicken salad
chicken tacos
chicken enchiladas
chicken tortilla soup
3.    Queso fresco or queso blanco is awesome if made from raw milk, but still ok if the milk is pasteurized, as long as it's from 100% grassfed cows or goats. If not, the nutrition is negligible and the fat ratios are off. Perhaps get a few parents to work together to source and make queso fresco. Kids could eat a lot of it!
4.    Real corn tortillas from non-GMO corn are good. Better than bread or flour tortillas!
5.    Frijoles refritos – fried in lard (NOT canola or other vegetable oil)
6.    Salsa is great. Pack it in a jar for school.
7.    Chicharrones are a great snack —  the real thing made from pork rinds, not the vegetarian ones… Pork belly yields the most and easiest chicharrones. You can get a roast and the chicharrones at the same time… Don't be afraid of the fat. If it comes from a happy pig, it is very nutritious. Excellent to fulfill the 80% fat requirements of a keto approach for children.
8.    Liver and other offal from chickens, cows and other animals –  costs way less and are even more nutritious than muscle meat.
9.    Sardines have awesome nutrition and are very portable, but children may not want to eat them in school. Good option for dinners and weekends at home though. And great for parents' lunch bag.
10.    Spend more money on good animal protein, — chicken, fish, pork, beef, etc – than on fruits and veggies…
11.    Ask farmers for discounts at the end of a farmers' market.  They are often happy not to have to lug the food back to the farm. They also tend to be generous towards people who can't afford the cost of real food but who appreciate it.
12.    Grow your own veggies in containers, i.e. tomato, peppers, cucumber, parsley, carrots, lettuce. Great project for children to help with and learn. Good instructions online.
13.     If a garden is available, raise chickens and a couple of goats for eggs and milk.
Thank you for the information Dr. Heidi. Here is her contact information if needed:
Dr. Heidi Dulay  • Little Spa • drheidi@littlespa.com • 415-279-0509
Please forward this email to those in need of nutrition education.
Coach Brien
Telephone: 650-654-4604
About Brien
Join Brien on Facebook
Write a Google+ Review
Write a Yelp Review: Belmont Boot Camp, Burlingame Boot Camp, San Carlos Boot Camp, Shamp's Studio Boot Camp
Disclaimer