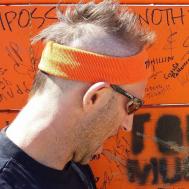 Congrats to all of you that completed Tough Mudder in Patterson this weekend. I got a little caught up in the energy and decided to get a Mohawk after the event (see photo on right). I thought it would be best to shave my whole head yesterday. There is something a little odd about a guy with a Mohawk, driving kids in a mini-van in Silicon Valley, right?
Coach Mike and I have now completed 6 -Tough Mudders (10-13 miles) and 2- World's Toughest Mudders (24 hours). Patterson was surprisingly beautiful and the events are never boring. We spent an hour after the event watching Mudders getting shocked. If you want a great laugh, check out an event in Sydney–> Electric Shock Therapy Video. If the electric shock scares you and it should, you do not have to do it or any other obstacle that you do not want to do.
Almost anyone can do an obstacle course event. There was a U.S. Veteran who carried a giant American flag the distance of the event. Another was in a wheelchair that was carried through the course. One of the Mudders was scared to jump into the water from 12 feet up (walk the plank) and started walking away from the obstacle. Coach Mike got his attention and after a short motivational talk he jumped into the muddy water and overcame his fear.
I am very excited to see so many of you registering for the Spartan Sprint at AT&T Park (only 3 miles). This will be a great introduction to Obstacle Course Racing. The next local Tough Mudder is in Tahoe at Northstar. For all team events go to–> Fitness Events.
Please save the date (5/3) for our Grand Opening Party (10:15 – 2 p.m.). We will be celebrating our new location at 601 Harbor in Belmont. At 10:15 a.m. there will be a FREE 60 – Minute Tony Robbins Peak Performance Workshop by one of Tony's Trainer's. We will also have exercise tutorials through the day: obstacles, TRX, Battle Ropes, Rock Climbing, food, networking and more.
The renovations for the new Belmont Studio at 601 Harbor are coming along well. We are excited for a May 1st start at 5:30 am. There will be a new 9:30 am Thursday session starting on our first day at the new location.
Our last boot camp session at 248A Harbor will be April 26th, so for those of you that attend the Harbor location, please go to another location from April 28- 30th.
See the Shamp's Boot Camps Facebook Page for updates on the transition and new location.
Your child can start the Youth Obstacle Boot Camp (YOBC) at any time for 50% OFF. You can see photos & videos here–> Youth Obstacle Boot Camp Facebook Page.
We are considering adding a YOBC Program for kids 5-8 years old since this age group loves our program. If interested, what times and days works for you?
For more information and to register go to:www.YouthObstacleBootCamp.com
The Trail Run & Hike Group will meet April 19th (7:30 am). Take Edgewood exit off I-280; right (west) on Edgewood to dead end at Canada Blvd. Park on the left of Edgewood.
We will do between 4-8 miles. You can do more or less, walk, jog or sprint 🙂
For the weekly trail schedule and directions go here: Trail Schedule
You can join the NEW San Mateo Boot Camp or any of the other Bay Area locations seen here: Boot Camps. Take advantage of the 21 Day Rapid Fat Loss Program for only $39.
Boot Camp sessions are getting full! We are no longer accepting new clients for the 5:15 pm session at the Harbor location in Belmont (May 1st we will accept new clients at the new location) or the 6 am session at Burlingame Boot Camp.
In 3-6 months, we also hope to have a new Burlingame location where we can offer evening programs.
Please share the 21 Day Rapid Fat Loss Program with your family, friends and co-workers. The Grand Opening promotion is good for all locations (new clients only). This promotion will be ending soon.
More than 300 symptoms could be caused by the consumption of gluten, yet a very small percentage of the population knows it could be fueling the cause. This is why "A Grain of Truth: The Gluten Summit" is so important: To help those potentially return to health who have no idea what is fueling their ailments, including you. For more go to: Gluten Summit
We are all in need of more ideas for healthy and quick food options. My family has really enjoyed Diana Keuilian's Family Friendly Fat Burning Food Plan (especially the kids). Check it out here–> Family Friendly Fat Burning Foods. Diana contributes the weekly recipe in this newsletter.
Commit to a fitness event in 2014–> 2014 Team Shamp Events. Save the dates on your calendars.
In this newsletter, you will see an article called "13 reasons why you need exercise" and an Egg Chile Omelet recipe below.
See my latest articles here: www.BrienShamp.com
Have a great week!
Brien