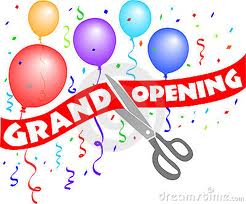 Yesterday we celebrated the Grand Opening of our new location at 603 Harbor Blvd. in Belmont.
I want to thank those of you that allowed me to make the grand opening a success, especially Javier who worked tirelessly over the last month to make the new location look great.
Throughout the month you will continue to see new equipment & changes to make the location the Best around!
I am grateful for the opportunity to find this new location and for you!
You're the one that has allowed me to follow my passion to live
and breathe health and fitness.
All my life I've been passionate about health and fitness and helping
others get in better shape.
So, because I'm so thankful for this opportunity to teach and
train you, and because of our new location, I'm in the spirit of
having a sale, I want to thank YOU with a 15% OFF offer on all of
my best programs.

Here's the thing, the majority of my clients are coming to
boot camp on a monthly membership…
I give you as much value as possible with:
•   Flexible times
•   Multiple sessions per day
•   Multiple locations
•   A variety of fun, balanced, time efficient and challenging fat burning workouts
•   A program and coaches that will give you modifications for the movements as needed
•   Nutrition & lifestyle education and coaching
•   A fun and challenging place to work out and make friends
My goal is to make your boot camp experience one that you can't
live without and one that you want to share with family and friends.
I want you to believe in boot camp the way I do.
Since many of you are already committed to boot camp,
let's save you some money!
I decided to have a 48-hour "Grand Opening" sale….
When you choose to commit to boot camp with a 'paid in full'
membership for 12 months, I'll give you 15% OFF, a 13th
Month for FREE (approx. $400 OFF), the 5 Day Detox and,
best of all, when you graduate, I'll buy you your very own
pair of designer "Skinny Jeans" of your choice up to $200.
The same 15% OFF goes for my 5 Day Detox, 10 Day Detox
and 21 Day Detox Programs. (You can purchase these even
if you live out of state).
This is a REALLY GOOD DEAL!
And there's no catch to this offer…
it's just a great deal for my most loyal clients.
This Grand Opening special will NOT be extended
or offered again (well until I open another facility in Burlingame).
You can sign up below to take advantage of the Grand Opening Deal here:
*As a monthly member you can attend any of the above locations
Contact me at 650-654-4604 or email me at beshamp@brienshamp-com.wp3.staging-site.io
if you have any questions.
Thank you for trusting me with your health and fitness goals
and giving me the opportunity to help you get the body and life
that you deserve!
I take this very seriously and I very much value the fact that
you've chosen to allow me to coach you.
Enjoy the rest of your Sunday!
See you at boot camp,
Sincerely,
Brien
P.S. So be sure to sign up above or contact me with your questions
to take advantage of this 15% OFF offer that's only available until noon on Tuesday.