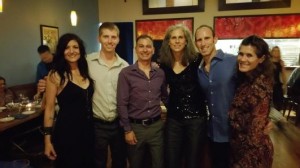 Happy Monday!
It was great to see so many of you at our Pre-Holiday Holiday Bash on Saturday. If you would like to see some photos go to the facebook page here: Photos
Join the NEW Online Group Nutrition & Lifestyle Coaching Program every Thursday @ 11:30 am PST. Our guest speaker this week will be Dr. Pete Tsiglieris.

Dr. Pete Tsiglieris is a NUCCA Chiropractor in Redwood City CA. He received his B.A. from San Francisco State University and his Doctor of Chiropractic degree from Life Chiropractic College in Hayward Ca. Dr. Tsiglieris returned to Life Chiropractic College to teach the NUCCA technique, as well as teaching Applied Nutrition to clinic doctors in their final year of internship. He hosted his own weekly radio health  talk show The Third Opinion for four years in the San Francisco Bay Area. He is also an avid competitive sports enthusiast dating back to his own professional baseball experience more than 30 years ago.
Dr. Pete will be talking about the connection between joint and muscle pain and the foods we eat.

I hope to have you on the call! Each call is recorded if you can't listen live.

This program is for those who desire weight loss, fat loss, stress reduction, sleep improvement and an overall improvement in health & vitality.
Local non-members and out of town subscribers can join the program and take advantage of our 50% OFF Promotion (for the first 15 people only). For more go to–> 50% OFF Promotion
This program is FREE for members of the boot camp to compliment your exercise program (sign up with the link above).

Join Beatrice Schultz, CFP® and Mark Guthrie from Westface College Planning in a presentation "How To Pay for College: Truths, Myths & Winning Strategies." College can cost thousands more than it should. Learn how to avoid overpaying! This presentation will be at the Belmont Studio on Tuesday, November 18th from 7:15 to 8:30 pm. For more information and to sign up: College'The New Mobile APP is now working as it should to schedule sessions for the Boot Camp Program. Please download: Android or Apple
The Trail Run & Hike Group will meet Saturday, November 15th at 7:30 am at Cross Country Trail off Ralston in Belmont. Please invite your friends and family for this free community workout. We will do between 4-5 miles. You can do more or less, walk, jog or sprint 🙂
For the weekly trail schedule and directions go here: Trail Schedule
You can learn about the Boot Camp Program and take advantage of our 6 Week Transformation Program here: Boot Camps (new clients only). Please share the 6 Week Transformation Program with your family, friends and co-workers.
In this newsletter, you will see an article called "Your Holiday Survival Guide" and a Weeknight Turkey Kebabs recipe below.
See my latest articles here: www.BrienShamp.com
Have a great week!
Brien