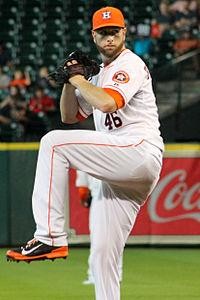 Happy Sunday!
Lately we have been hearing nothing but negative publicity about pro athletes.
They are not all bad apples.
Last week we had session nine of the Online Group Nutrition & Lifestyle Coaching  Program and I interviewed pro baseball player Scott Feldman.
I have been working with Scott off and on since he was 18 years old. He went to Burlingame High School in California, and I was his Strength & Conditioning Coach for the College of San Mateo Bulldogs before he signed with the Texas Rangers. He is now with the Houston Astros.

I am so proud of Scott for what he has accomplished over the years. I am not talking about his success on the mound or his major league contracts, although that is not bad either 🙂

I am proud of Scott for his character, his openness to coaching, and his drive to get better given his challenges over the years. Scott has come a long way since high school and I am excited to share his transformation with you, as I am sure you will see value in his story for your own transformation.
*Start recording @ 14:12
Scott is going to talk about how he thought I was a complete wacko when he first met me, but the real value is his awareness of the importance of the "right foods" for his performance, recovery and overall health. Scott has learned that certain foods cause him pain and weight gain and other foods allow him to perform at his highest potential and look his best also.
Interestingly enough, most pro athletes are not performing at their highest potential because they don't want to put the work into learning about what their body's really need. It is much easier to just take a drug.
Scott is now in the best shape of his life and we are both looking forward to the 2015 season.
Listen to the recording below:

*Start recording @ 14:12
Remember, the Online Group Nutrition & Lifestyle Coaching  Program is FREE for current boot camp members to compliment your program. Sign up with the link above. 

If you are not in the boot camp program you can take the online coaching program also!

The first 15 people to sign up can take advantage of the program for the first month at 50% OFF!!!
Sign up here: Online Group Nutrition & Lifestyle Coaching  Program
Your friend & coach,
Brien
**************************************************************************
Join me on Facebook (click here) for answers to all your health, fitness, and nutrition questions.
Please Write Me a Review on Google +: Google +
Please Write Me a Review on Yelp: Belmont Boot Camp, Burlingame Boot Camp, San Carlos Boot Camp, San Mateo Boot Camp, Shamp's Studio Boot Camp
**************************************************************************
I work with those who desire weight & fat loss, pain reduction and stress management through comprehensive exercise, nutrition & lifestyle strategies. My dream  is to coach those who seek my help live their passions with happiness & love.
Thank you for allowing me to help you.
**************************************************************************
Check our life-changing fitness and nutrition programs to help you live your healthiest, fittest, and most energetic life ever!
Brien Shamp BS CSCS CMT CHEK NLC II
Personal Trainer, Nutrition and Lifestyle Coach
See my daily blog here: https://brienshamp.com/blog
Disclaimer: The entire content of this article and the www.BrienShamp.com website are based upon the opinions of Brien Shamp, unless otherwise noted. These statements have not been evaluated by the Food and Drug Administration. Products and services are not intended to diagnose, treat, cure or prevent any disease. If you are pregnant, nursing, taking medication, or have a medical condition, consult your physician before using products and services. Individual articles are based upon the opinions of the respective author, who retains copyright as marked. The information on this website is not intended to replace a one-on-one relationship with a qualified health care professional and is not intended as medical advice. It is intended as a sharing of knowledge and information from the case studies, research and experience of Brien Shamp and his community. Brien encourages you to make your own health and fitness decisions based upon your research and in partnership with a qualified health care professional