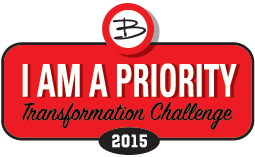 Happy Monday!
We are looking for Coaches for the adult Boot Camp program and the Youth Obstacle Boot Camp. In addition, we are looking for part time help with administrative work at the Harbor Studio in Belmont. Please send me a resume if you are interested.

Last call for the 2015 "

I am a Priority Transformation" Challenge

. We currently have 57 in the challenge and 76 days left. Sign up ends on Wednesday at midnight. Its only $25 for current clients. The winner will receive $1000 and the runner up will get $500. Even if you don't win the challenge it will give you a deadline for your goal achievement. This is another way to keep you focused on your needs during the first quarter of the year. Sign up here: I am a Priority Transformation Challenge

 

Please share the Challenge with your family, friends and co-workers

.



It's that time of the year again…Can you please vote for us to win Best Boot Camp in the Bay Area. Here is the link:

 

Please Vote

.  I appreciate your support. Thank you!
Please take a look at the

 

2015 Boot Schedule. 

 

Please note: The 5:15 pm boot camp session with Brien (Harbor Blvd location) on Monday and Wednesday nights are full at this time for NEW members.


Join us Thursday, February 12th @ 11:30 am PST for our 

Online Group Nutrition & Lifestyle Coaching Program

.

 

The topic of the week will be

 

Alex Yupanqui's 2014 Holiday Transformation.

I hope to have you on the call! Each call is recorded if you can't listen live. This program is for those who desire weight loss, fat loss, stress reduction, sleep improvement and an overall improvement in health & vitality.Local non-members and out of town subscribers can join the program and take advantage of our 50% OFF Promotion (for the first 15 people only)

. For more go to–> 50% OFF Promotion
Join us Saturday, February 14th @ 7:30 am at the Canda/Edgewood Road Intersection

 

for the FREE Trail Running Group. See the weekly Trail Running Schedule and Directions here:

 

Trail Running Group
Have a great week!
Your friend & coach,
Brien
Write a Yelp Review: Belmont Boot Camp, Burlingame Boot Camp, San Carlos Boot Camp, San Mateo Boot Camp, Shamp's Studio Boot Camp