This chicken and veggie dish is light and delicious. Yogurt and curry flavors blend for an enjoyable new chicken experience. Enjoy it as a tasty lunch or a protein packed dinner.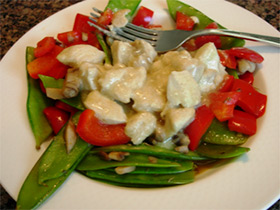 Servings: 2
INGREDIENTS:
5 oz boneless raw chicken breast, diced
1/4 cup chicken broth
4 teaspoons arrowroot starch
5 cups raw mushrooms, sliced
4 teaspoons olive oil
2 cups red bell pepper, chopped
2 cups China peas
1 cup organic plain whole fat yogurt
2 teaspoons curry powder
DIRECTIONS:
Put 2 teaspoons olive oil and the diced chicken in a non-stick pan. Cook chicken until browned.
Add chicken broth, yogurt, curry powder and arrowroot starch — stir constantly.
Heat until thick sauce forms, and then simmer for 5 minutes.
While the chicken is cooking put 2 teaspoons olive oil, mushrooms, bell peppers, and china peas in another non-stick pan. Cook until the vegetables are tender.
Place an equal amount of vegetable on 2 plates and top with equal amounts of chicken.
Your friend & coach,
Brien
About Brien
Join Brien on Facebook
Write a Google+ Review
Write a Yelp Review: Belmont Boot Camp, Burlingame Boot Camp, San Carlos Boot Camp, Shamp's Studio Boot Camp
Disclaimer