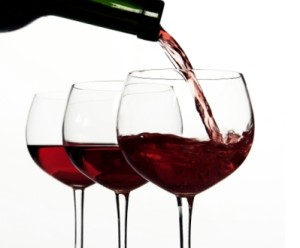 Do you like red wine?
Many of my clients do also and for years I have told them if they want to lose weight and get "healthy" they should stop drinking until they achieve their weight or health loss goal.
Yes, I have heard about all the beneficial antioxidants and resveratrol in red wine; however, the calories, sugar, and pesticides outweighed the positives for me.
Back in 2012, there a study published by María Isabel Queipo-Ortuño, et. al. in the American Journal of Clinical Nutrition "Influence of red wine polyphenols and ethanol on the gut microbiota ecology and biochemical biomarkers"  (Am J Clin Nutr. 2012; 95:1323-1334) that has made me think a little differently about wine consumption.
Here is a summary of the study (See the actual study below):
10 health male subjects (range: 45–50 years old).
They consumed either 9.2 oz./day of red wine or the equivalent amount of de-alcoholized
red wine, or 3.4 oz./day gin for 20 days each.
De-alcoholized red wine and red wine used in this study were produced with the Merlot grape variety, from the Penede's appellation.
Daily consumption of red wine polyphenol only for 4 weeks significantly increased the number of good bacteria in the gut (Enterococcus, Prevotella, Bacteroides, Bifidobacterium, Bacteroides uniformis, Eggerthella lenta, and Blautia coccoides–Eubacterium rectale groups) (P , 0.05).
There was an important decrease in the pathogenic bacteria known as Clostridium genera and Clostridium histolyticum group. The significant decrease found suggests that red wine polyphenols have an inhibitory effect on the growth of these bacteria, which includes Clostridium perfringens—an important pathogen closely related with the progression of colonic cancer and the onset of inflammatory bowel disease.
In parallel, systolic and diastolic blood pressures and triglyceride, total cholesterol, HDL cholesterol, and C-reactive protein (CRP) concentrations decreased significantly (P , 0.05). CRP gives us an idea how much inflammation there is in the body.
Cholesterol and C-reactive protein concentrations were linked to changes in the
bifidobacteria (good bacteria) number.
First in vivo study to show regular moderate consumption of red wine could have a noteworthy effect on the growth of select gut microbiota. Red wine polyphenols can inhibit non-beneficial bacteria from the human microbiota (decrease the bad bacteria) and potentiate the growth of probiotic bacteria such as bifidobacteria (improve the good bacteria), which could be implicated in the reduction of CRP and cholesterol
Possible prebiotic benefits associated with the inclusion of red wine polyphenols in the diet.
What we don't know from this study:
Would these results be replicated in other age groups for males? Females?
The study used a Merlot grape variety, from the Penede`s appellation. Would there a difference if other red wines were used? Does the quality of the grapes make a difference? Organic, non-organic? What is the difference between a cheap vs. expensive wines?
Would there be better results if there was more than 4 weeks of red wine consumption?
Is more or less volume better? Many drink more than 9 oz. per day.
Given this study and I am a male I have increased my wine intake. So far, so good 🙂
I do recommend an organic red wine with low sulfites.
Don't forget to stay hydrated!
For those with addictions, past history of alcohol abuse and a family history of alcoholism, consumption of any alcohol is a bad idea.
Below is a PDF file of this study on Red Wine. If the PDF document below does not load, try using an alternate browser program to reach this URL, or you may use this link to view/download the file (right-click on the link and choose "Save link as…" When the PDF loads below, hover your cursor over the bottom right corner of the document and click on the "Save" button/icon to save the file to your desktop.
[pdf]https://brienshamp.com/wp-content/uploads/2015/03/Am-J-Clin-Nutr-2012-Red-Wine-Study.pdf[/pdf]
Please add your comments below. I would love your feedback!
Your friend & coach,
Brien
About Brien
Join Brien on Facebook
Write a Google+ Review
Write a Yelp Review: Belmont Boot Camp, Burlingame Boot Camp, San Carlos Boot Camp, San Mateo Boot Camp, Shamp's Studio Boot Camp
Disclaimer