Dale's Raw Foods is having a spectacular 4th of July sale!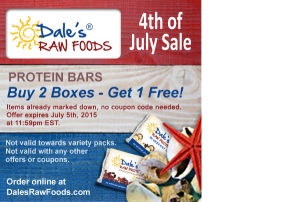 Buy 2 Boxes, Get 1 FREE on Protein Bars. No Coupon Code needed.
I strongly recommend eating Dale's Raw Foods products. Their products are wholesome, organic, vegan, gluten-free, non-GMO, with no preservatives or other artificial ingredients. They have protein bars, protein powders, nut butters, trail mix snack foods and more. And they taste delicious!
If you have questions about Dale's Raw Foods products or any other supplements just contact me.
Your friend & coach,
Brien
About Brien
Join Brien on Facebook
Write a Google+ Review
Write a Yelp Review: Belmont Boot Camp, Burlingame Boot Camp, San Carlos Boot Camp, Shamp's Studio Boot Camp