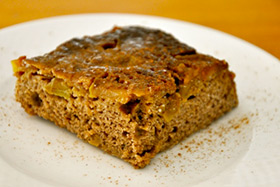 I have a another healthy treat for you below.
Don't forget that you can't have a treat unless you do your exercise 🙂
If you live on the peninsula join the trail running group and I at Waterdog in Belmont at 7:30 am or take a boot camp session at the Harbor Studio. Of course any movement is good movement, as long as you don't hurt yourself moving!
Here's a slice of cake that won't mess with your brain chemistry. The wholesome and lightly sweet flavor will satisfy your sweet tooth and power your day with real energy.
Servings: 20
Here's what you need:
Caramel Topping:
1/4 cup coconut oil, melted
1/4 cup coconut crystals
1/2 teaspoon ground cinnamon
2 organic apples, thinly sliced and chopped
Apple Cake:
1/3 cup coconut flour
1/3 cup blanched almond flour
1/4 teaspoon salt
1/2 teaspoon baking powder
2 teaspoons ground cinnamon
1/4 teaspoon ground nutmeg
5 organic eggs
2 teaspoons vanilla extract
1/4 cup pure maple syrup, grade B
1/4 cup organic, full fat coconut milk
2 Tablespoons coconut oil, melted
Preheat oven to 325 degrees F. Grease an 8×8 pan with coconut oil.
Caramel Topping: In a small bowl combine the melted coconut oil, coconut crystals and cinnamon. Pour into the prepared pan. Evenly sprinkle the chopped apples over the caramel.
In a medium bowl combine the coconut flour, almond flour, salt, baking powder, cinnamon and nutmeg.
In another medium bowl combine the eggs, vanilla, syrup, and coconut milk. Blend well.
Add the wet ingredients to the dry ones, and then slowly mix in the melted coconut oil.
Carefully spread the cake batter over the apples and caramel in the pan.
Bake for 35 minutes. Remove from oven and cool for 15 minutes.
Loosen the edges of the cake with a knife. Invert the cake by placing a plate over the top of the pan and then flipping it over.
Slice, serve and enjoy!
Nutritional Analysis: One serving equals: 105 calories, 7g fat, 44mg sodium, 7g carbohydrate, 1g fiber, and 3g protein
Have a great weekend!
Your friend & coach,
Brien
Write a Yelp Review: Belmont Boot Camp, Burlingame Boot Camp, San Carlos Boot Camp, Shamp's Studio Boot Camp