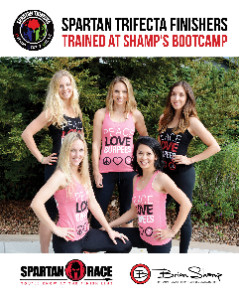 I am so proud of the above ladies. These tough mothers are Spartan Strong!
They have 2-3 kids, go to morning boot camps, add in additional runs, eat well and get their sleep and do it all over again the next day. Outstanding!
They accomplished their Trifecta for the Spartan Races and they compete at a high level.
There are a few more Spartan Races coming up in our area:
For all Spartan Races, my subscribers and clients will receive 15% off of their race registrations with the client coupon code: SR00097

Other news related to Spartan Races: Season 2 of Spartan Race on NBC starts this week.: Spartan on NBC
There is also new discount code for TEAMS – just sign up 3 friends and you race for free. The teammates get $20 off their races as well.
Use Code: TEAM when you register. Only 1 promo code per registration.
We will help you prepare for Spartan and any obstacle course event with our boot camp program, Saturday trail running group and Coach Mike's Obstacle Course Training Camp!

I look forward to seeing you on the trails and in boot camp!
Let me know if you need any help.
Your friend & coach,
Brien
Write a Yelp Review: Belmont Boot Camp, Burlingame Boot Camp, San Carlos Boot Camp, Shamp's Studio Boot Camp