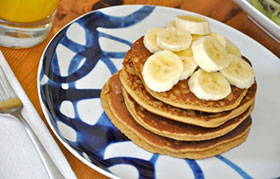 Last Friday I shared some breakfast ideas for Foodie Friday.
If you missed it check it out here: breakfast ideas
Below is a wonderful option for a weekend breakfast… pancakes. It's healthy, delicious and ready in 20 minutes.
These pancakes are gluten-free and are lower in carbs and sugar than pancakes made from a packaged mix. Serve with a side of eggs to increase the protein & fat content.
Yield: 10 pancakes
Here's what you need…
1 mashed banana
2 eggs
1/4 cup coconut sugar
1 Tablespoon vanilla extract
1/4 teaspoon almond extract
1 1/2 cups blanched almond flour
1/2 teaspoon baking soda
1/2 teaspoon sea salt
coconut oil
Combine the mashed banana, eggs, coconut sugar, vanilla and almond extracts in a food processor. Add the flour, soda and salt. Mix well. Let the batter sit for 15 minutes.
Preheat coconut oil on your griddle over medium heat. Ladle pancake batter by 1/4 cup onto griddle. When bubbles form, flip the pancakes to cook other side.
Serve with sliced banana and pure maple syrup. Enjoy!
Nutritional Analysis: One pancake equals: 148 calories, 9g fat, 8g carbohydrate, 3g fiber, and 4g protein.
Don't forget about the Dale's Raw Food Bar Sale that ends Sunday @ 9 pm PST. Buy one box get one box free here: Dale's Raw Bars
Your friend & coach,
Brien
Write a Yelp Review: Belmont Boot Camp, Burlingame Boot Camp, San Carlos Boot Camp, Shamp's Studio Boot Camp