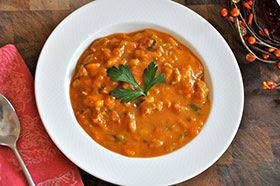 This comforting autumn stew is filled with creamy pumpkin and savory turkey, keeping it low-carb and high protein. Stew doesn't get better than this! If you're up for making a turkey, feel free to use shredded, roasted turkey instead of raw, ground turkey. Simply chop the shredded, roasted turkey and add in the last 10 minutes of the cooking time. Enjoy!
Servings: 12
INGREDIENTS:
1 Tablespoon coconut oil
1 small yellow onion, chopped
1 fennel bulb, chopped
1 small butternut squash, peeled, seeded and chopped
2 teaspoons fresh ginger, minced
1 lb ground turkey
1 (14oz) can diced tomatoes in sauce
1 (14oz) can pumpkin
4 cups chicken broth
1/2 teaspoon sea salt
1/4 teaspoon black pepper
1/2 cup parsley, chopped
DIRECTIONS:
In a large soup pot, place the coconut oil over medium-high heat. Add the onion and cook for 3 minutes, until tender. Add the fennel, butternut squash and ginger. Cook for 5 minutes.
In a large skillet place the ground turkey over medium-high heat. Cook until browned, stirring often. Drain off liquid.
Add the turkey, tomatoes, pumpkin, broth, salt and pepper to the soup pot. Cover and cook over low heat for 40 minutes. Stir in the chopped parsley and cook, uncovered for another 10 minutes. Serve warm. Enjoy!
Nutritional Analysis: One serving equals: 110 calories, 4g fat, 195mg sodium, 10g carbohydrate, 2g fiber, and 9g protein.
Your friend & coach,
Brien
About Brien
Join Brien on Facebook
Write a Google+ Review
Write a Yelp Review: Belmont Boot Camp, Burlingame Boot Camp, San Carlos Boot Camp, San Mateo Boot Camp, Shamp's Studio Boot Camp