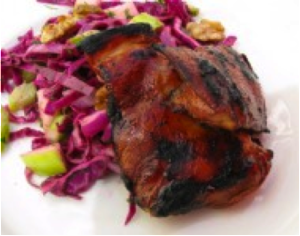 INGREDIENTS:
6 boneless, skinless, chicken thighs, trimmed of any excess fat
½ cup of soy sauce
¼ cup of brown sugar
2 tbsp. of rice vinegar
2 tbsp. of lime juice
1 tsp. of grated ginger
1 tsp. of garlic powder
1 tsp. of toasted sesame oil
DIRECTIONS:
Mix all ingredients together in a bowl (chicken in last).
Coat the chicken well in the marinade and cover. Place in the fridge for at least one hour.
Remove the chicken from the marinade and place on a hot grill or grill pan.
Cook the chicken for about six minutes on one side and then flip and cook about ten minutes on the other side.
Allow the chicken to rest for about 5-10 minutes before eating.
Your friend & coach,
Brien
About Brien
Join Brien on Facebook
Write a Google+ Review
Write a Yelp Review: Belmont Boot Camp, Burlingame Boot Camp, San Carlos Boot Camp, Shamp's Studio Boot Camp
Disclaimer