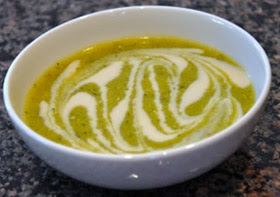 Who could use a little cleansing soup right now?
Before I get to the recipe below, don't forget that I have my top two detox programs on sale until 12/6 @ 9 pm PST. Click on the links below for more information. Also, my partner Dale is having a sale on his raw bars.
10 Day Detox Program – 20% OFF (Discount given at checkout)
21 Day Detox – 20% OFF (Discount given at checkout)
Dale's Bars-Buy 2 Boxes, Get 1 FREE
Onto the soup….
This simple, cleansing squash soup recipe is an amazing recipe to rely on this holiday season for two reasons…
First, it's the perfect light meal to eat before you go out to your holiday party. You'll make better food choices and will have less room for the fattening foods when you've already filled up on this guilt-free soup.
Secondly, this soup makes a wonderful day-after-the-big-party meal, when you want to keep things low-calorie, simple and cleansing. It freezes well, so make lots and save some for later. Servings: 6
Here's what you need…
Nonstick cooking spray (olive oil)
1 red onion, chopped
6 cups vegan vegetable broth
3 green zucchini, chopped
3 yellow zucchini, chopped
dash of salt and pepper
12 oz frozen butternut squash, defrosted
1 cup unsweetened coconut milk
juice from 1/2 a lemon
dab of plain Greek yogurt (could also use coconut yogurt)
Spray the bottom of your soup pot with nonstick spray, and sauté the onion until soft. Add the broth, zucchini, salt and pepper and cook until zucchini is soft.
Use your hand blender and puree the soup until smooth. Add the butternut squash.
Remove from heat, add milk and lemon juice.
Put a dab of yogurt in each bowl and swirl with a spoon.
Nutritional Analysis: One serving equals: 122 calories, 1g fat, 402mg sodium, 26g carbohydrate, 3g fiber, and 5g protein
FeastPeace, our NEW Organic meal delivery service to the Harbor Studio- Belmont Fit Body Boot Camp location has been outstanding. If you don't want to make the time to cook or if you are confused on what makes a healthy meal give FeastPeace a try for just a week. You must order your meals at least 4 days in advance.
For more information and to order >>> FeastPeace Organic Food

Please share my educational content with your friends and family and help me reach my goal of 10,000 subscribers >> Subscribe
Your friend & coach,
Brien
Write a Yelp Review: Belmont Boot Camp, Burlingame Boot Camp, San Carlos Boot Camp, Shamp's Studio Boot Camp