INGREDIENTS:
For the truffles: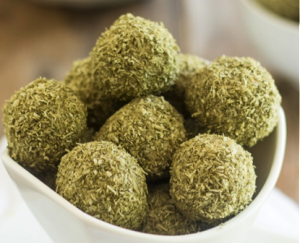 1-cup firm coconut oil (refrigerate if necessary)
1-cup coconut butter
1/2 cup full fat coconut milk, refrigerated overnight
1/2 tsp. matcha green tea powder
1/4 tsp. ground Ceylon cinnamon
1/4 tsp. Himalayan salt
1 tsp. pure vanilla extract
For the coating :
1 cup finely shredded unsweetened coconut
1 tbsp. matcha green tea powder
DIRECTIONS:
Add all the ingredients listed under "truffles" to a good sized mixing bowl. (Make sure the coconut oil is firm – put in fridge for a few minutes if necessary)
Mix on high speed with a hand mixer, until light and fluffy, then send to the refrigerator to firm up for about an hour.
While the "truffle" mixture is firming, combine the shredded coconut and matcha powder together in a fairly large mixing bowl. Set aside.
Use a small ice cream scoop form the cold "truffle" mixture into 32 little balls, roughly the size of a ping-pong ball.
Roll the balls quickly between the palms of your hands to shape them into perfect little spheres, then drop each ball into the coconut / matcha mixture and roll them until completely coated.
Transfer your finished fat bombs to an airtight container and keep refrigerated for up to 2 weeks.
Your friend & coach,
Brien
About Brien
Join Brien on Facebook
Write a Google+ Review
Write a Yelp Review: Belmont Boot Camp, Burlingame Boot Camp, San Carlos Boot Camp, San Mateo Boot Camp, Shamp's Studio Boot Camp