This refreshing chicken salad recipe is from Diana Keuilian from realhealthyrecipes.com.
Servings: 4
INGREDIENTS: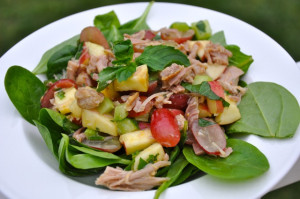 For the Dressing:
¼ cup olive oil
¼ cup fresh squeezed orange juice
1 Tablespoon orange zest
Stevia to taste
1 Tablespoon Dijon mustard
dash of salt and pepper
For the Salad:
2 cups shredded roasted chicken
1 organic apple, chopped
2 organic celery stalks, chopped
¼ cup fresh mint leaves, finely chopped
1 cup organic, red grapes, halved
4 cups baby spinach
DIRECTIONS:
For the Dressing:
In a small bowl whisk the olive oil, orange juice, orange zest, stevia, Dijon, salt and pepper.
For the Salad:
In a medium bowl combine the chicken, apple, celery, mint and grapes. Toss with the dressing.
Prepare each plate with a pile of spinach. Top with the chicken salad mixture.
Nutritional Analysis: Each serving provides approx. Calories: 289     Fat: 15 g     Carbohydrates: 13 g     Sodium: 795 mg     Fiber: 2 g     Protein: 25 g
Your friend & coach,
Brien
About Brien
Join Brien on Facebook
Write a Google+ Review
Write a Yelp Review: Belmont Boot Camp, Burlingame Boot Camp, San Carlos Boot Camp, Shamp's Studio Boot Camp
Disclaimer